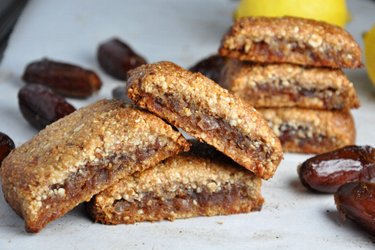 Almond Newtons with Date Filling (Gluten-Free)
Share this recipe with a friend:
Sometimes a person overcomes an old familiar feeling: I have a desire for something good. I'd like something nice. Then it is important to have prepared a supply of healthy sweets so that you won't reproach eating them all. And these almond newtons with date filling represent just that healthy, quick and tasty dessert, which is even flour-free and gluten-free.
Likable almonds boast with title the queen of nuts and dates with the title of the smallest healthy sweets in the world. Dates themselves are nutritious sweet refreshments because they contain calcium, amino acids, manganese, copper, magnesium, iron, potassium and phosphorus. With this composition, it would be a sin not to think of as great recipe, as the date filling definitely is. On the other side, almonds are effective against diabetes, support healthy heart, bones and teeth. They support your brain, and if you want to pilfer delicacies and lose weight, almonds will be pleased to help you.
Try this irresistible combination of a slightly crunchy almond base filled with a sweet and juicy date filling. These small almond newtons are an ideal snack during the day and are also great as a nutritionally valuable snack for your hikes. The perfect combination of flavors in this little dessert will pleasantly surprise you. Vegan version can be prepared easily by replacing honey with another liquid sweetener.
These tasty and healthy almond newtons with date filling are a slightly crunchy and soft dessert that goes well with tea, coffee or a glass of milk.
Instructions
Combine all the ingredients for the dough in a bowl. Let them sit in the refrigerator for 30 minutes.
In a blender, blend dates with lemon juice and vanilla extract until you have a thick, smooth mixture.
Take dough out of the refrigerator and place onto a sheet lined with parchment paper.
Cover with another piece of parchment paper and roll out into a rectangle. The narrower and longer a rectangle you make, the more snacks you'll have.
When rolled out, spread filling onto the dough, leaving 0.5 cm around the edge.
Fold the other side (the one without the filling) over the filling and level off the edges.
Cut the roll carefully into small pieces with a knife (don't divide them, or they'll fall apart) and bake at 180 degrees Celsius (356 °F) for 10 to 15 minutes, until brown.
Share this recipe with a friend:
| | | |
| --- | --- | --- |
| | Preparation time | 25 minutes |
| | Yields | 12 slices |
Nutritional information / 1 slice
Calories
130 Kcal
Carbohydrates
10 g
Fiber
2 g
Proteins
3 g
Fat
9 g
I am a fit food wizard nutritionist and I conjure up these healthy and tasty fitness recipes.
My goal is to show you that eating healthy can be easy-breezy.
Lucia Wagner
Comments