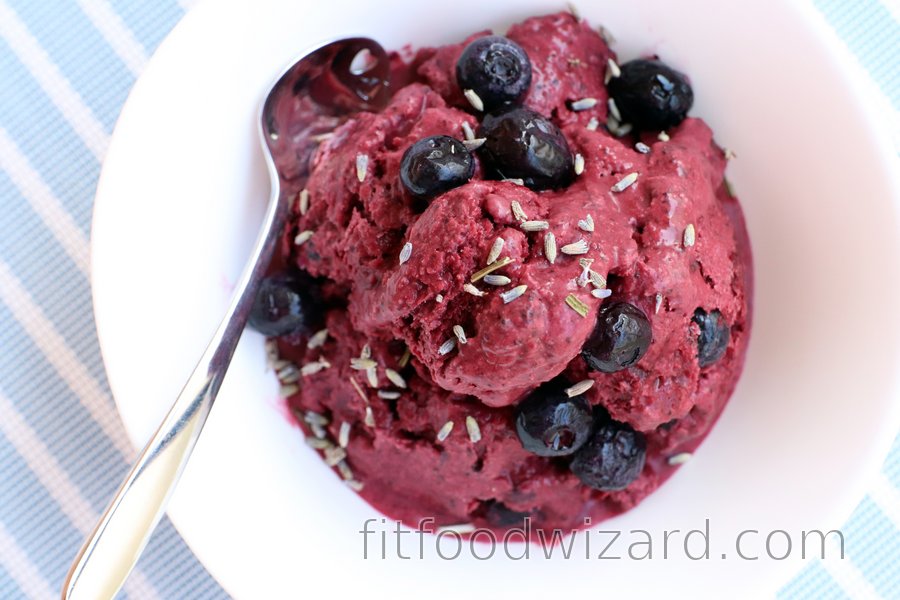 Anti-stress lavender-blueberry ice cream
Prepare this simple homemade lavender ice cream with blueberries and coconut milk, which will ensure its delicious and decadent coconut taste. Lavender has naturally calming properties and thus has an anti-stress effect on the body. I'm sure that its smell and taste is enough to make you relieved and free from all of your worries :)
For a long time, I wanted to use lavender in some type of dessert, but I still had some respect towards it. But in the end, I gathered the courage and tried this ice cream and I am so glad I did! This healthy lavender ice cream is rich in healthy fats, vitamins, and antioxidants. If you want to increase its protein content, I recommend adding vanilla or coconut protein powder. The beautiful purple color of this healthy lavender ice cream is created thanks to blueberries, which are one of the best sources of vitamin C and antioxidants. You can buy dried lavender in stores with loose leaf tea or online. For best results, be sure to use full-fat coconut milk from a can.
Even vegans and anyone with lactose intolerance can enjoy this lavender and blueberry ice cream. It does not contain any heavy cream or cow's milk at all. You can also prepare this ice cream sugar-free, with the use of xylitol or other sweetener (stevia etc).
If you like lavender in any form, be sure to try this healthy lavender ice cream with blueberries.
Instructions
Let the coconut milk boil over a low flame.
Add in the dried lavender and let it infuse for 5 minutes.
Strain the coconut milk through a sieve into a blender. Add honey, frozen blueberries, vanilla extract, and, if desired, protein powder as well.
Blend the mixture until smooth in a blender (I recommend this one) , pour it into a resealable container and store in the freezer for at least 6 hours.
Remove the ice cream at least 5 minutes before serving so that it can be dished out nicely.
| | | |
| --- | --- | --- |
| | Preparation time | 15 minutes |
| | Yields | 6 servings |
Nutritional information/ 1 serving
Calories
266 Kcal
Carbohydrates
16 g
Fiber
1 g
Proteins
2 g
Fat
22 g