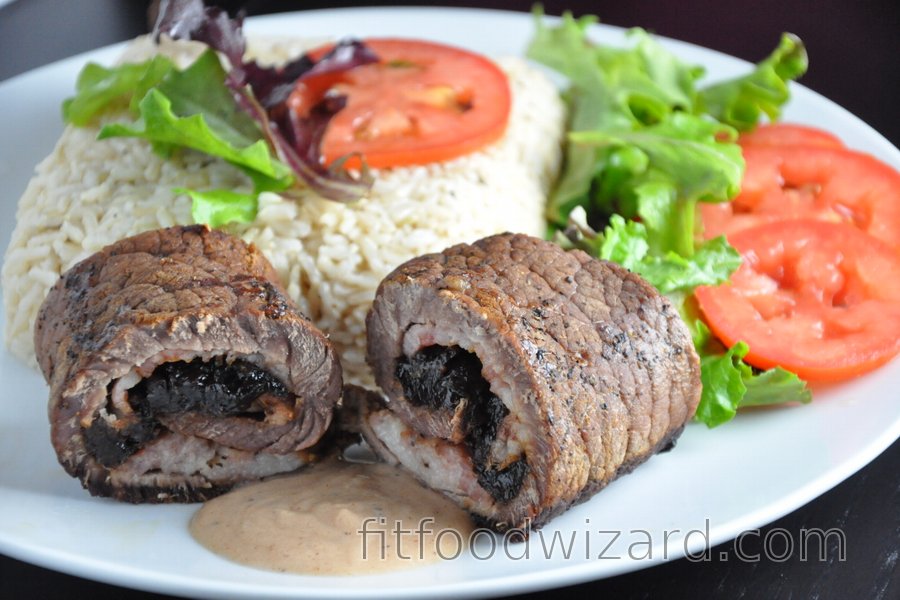 Beef Rolls with Dried Plums
This time, I bring you a recipe for excellent beef rolls with dried plums, your entire family will definitely enjoy. Try this **tasty, gluten-free and high-protein lunch or dinner.
I have always loved recipes with plums and plum jam. Even savory and meat-based recipes in which plums are used, were not an exception for me. The combination of beef and plums is totally perfect for me. This recipe is relatively easy to prepare, it only takes a few minutes. The meat is nicely soft and juicy after simmering.
I prefer to serve these beef rolls with rice and vegetable salad, but you can also use millet, potatoes or quinoa as well. If you don't have chickpea flour, you can thicken the sauce with any other flour or starch. Usually I don't use bacon in my recipes at all, but I can not imagine this particular recipe without it. However, if you want to prepare more diet version without bacon, you can replace it with prosciutto or other high quality ham.
Ingredients
2 beef steaks (10 oz)
4 to 6 pieces dried plums
2 slices ham (or prosciutto)
1 Tbsp olive oil (I recommend this one)
onion
sea salt
black pepper
For the sauce:
1 Tbsp chickpea flour
5 Tbsp milk
black pepper
Instructions
Tenderize the beef steaks in a pan.
Add pepper and salt to taste.
On each steak, place a piece of ham, a few dried plums, and roll.
Pierce the roll with a skewer. Meanwhile, in a steaming pot or in a deeper frying pan, slightly sauté onions in olive oil.
Add the rolls and water.
Simmer the rolls for approximately 30 minutes, until tender.
Check occasionally to make sure there is still water in the pot – if not, add some more.
When the rolls are done, take them out. Create the sauce by mixing milk with chickpea flour and spices.
Let the sauce boil, and when done, pour it on the rolls before serving.
Serve with brown rice and salad.
| | | |
| --- | --- | --- |
| | Preparation time | 40 minutes |
| | Yields | 2 servings |
Nutritional information/ 1 serving
Calories
315 Kcal
Carbohydrates
12 g
Fiber
2 g
Proteins
35 g
Fat
13 g