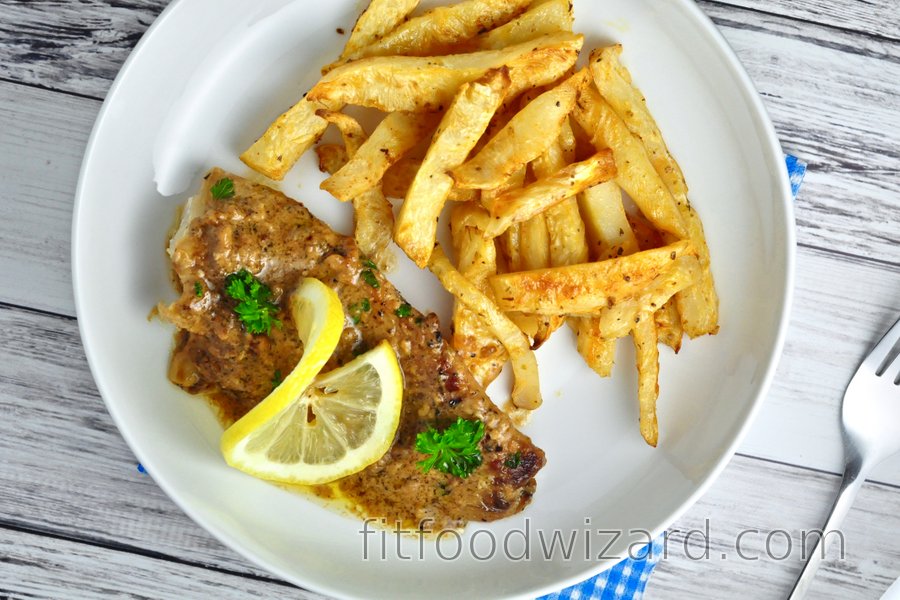 Braised cod in lemon-garlic sauce with celery fries
Enjoy this delicious braised cod with lemon-garlic sauce and baked celery fries. This meal is high in protein but also low in carbs and calories. In addition, it is rich in vitamins and minerals, especially: B vitamins, selenium, phosphorus, manganese, magnesium, niacin, folic acid, and vitamins E and A. For fish lovers, this recipe is the perfect tip for a healthy and diet-friendly lunch or dinner.
Cod is one of the most popular fish species due to its taste characteristics. It also offers a low caloric value and is rich in Omega 3 fatty acids. If you can't get cod though, don't worry, you can easily replace it with salmon or any local fish you like.
Homemade baked celery fries will playfully replace classic french fries as a side dish - as they are baked, you don't need a lot of oil. This way, the food has a significantly lower caloric value and you will feel light and fit after eating it :)
This braised cod with celery fries is wonderful for a family dinner and I definitely recommend trying it.
Ingredients
For the fish:
600g of cod
2 tbsp of butter
1 lemon (juice + peel)
2 cloves of garlic
1 tbsp of mustard
1-2 tbsp of soy sauce (I recommend this one)
parsley
For the celery fries:
1kg of celery
1 tsp of sea salt
1/2 tsp of paprika
1/2 tsp of marjoram
1 tbsp of olive oil (I recommend this one)
Instructions
Clean the celery and cut it into thin fries.
In a large bowl, prepare a marinade for french fries by mixing olive oil, spices, and salt.
Then add the sliced french fries to the bowl and carefully cover them with the marinade.
Place the french fries on a baking sheet lined with parchment paper and bake them for 40 to 50 minutes at 220 degrees until crispy, turning them to the other side after 20 minutes.
In the meantime, prepare the cod in a deep frying pan. Heat up the butter and add pressed cloves of garlic, mustard, lemon juice and peel, soy sauce, and then place the cod on the pan.
Cover the pan and braise the fish until soft on low heat for about 10-15 minutes. If necessary, add a little water.
In the end, sprinkle the fish with fresh parsley.
Serve the fish with baked celery fries, topped with the prepared sauce and you can also add some fresh salad.
Bon appetit! :)
| | | |
| --- | --- | --- |
| | Preparation time | 65 minutes |
| | Yields | 3 servings |
Nutritional information/ 1 serving
Calories
368 Kcal
Carbohydrates
7 g
Fiber
6 g
Proteins
50 g
Fat
12 g