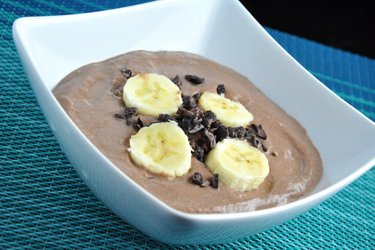 Chocolate-Ricotta Mousse
Share this recipe with a friend:
Delicious ricotta dessert with a high protein content that you can enjoy, for example, for breakfast as well. This chocolate-ricotta mousse is nutritionally balanced and has a distinctive chocolate flavor.
In this tasty and healthy recipe we can find a somewhat unconventional combination of ingredients - ricotta, egg whites, honey and cocoa. As you can see, chocolate-ricotta mousse is not demanding of ingredients at all and its preparation is not more complicated at all. Whipped egg whites will give an amazing, delicate touch and volume to this mousse and ricotta softens this dessert with its delicious and rich flavor. In addition, both ingredients represent a rich source of protein, making this dessert a suitable sweet pre- or post-workout snack. By whipping the egg whites over a pot of boiling water, you can effectively avoid any complications that might occur after raw eggs consumption.
For the most delicate cocoa flavor, I recommend adding dutch cocoa, of course without sugar. You can use honey to sweeten the chocolate-ricotta mousse, or if you want to reduce the amount of carbohydrates and sugar in the recipe, just use stevia or xylitol. To achieve the best nutritional value, I recommend using a low-fat ricotta. 2 cups of ricotta represent 500 g, and 6 servings will arise from this amount of ingredients.
We can decorate the chocolate-ricotta mousse with banana and cocoa nibs or another fresh fruit. The mousse tastes the best when cold, after being refrigerated.
Instructions
In a blender, blend ricotta, sweetener, and cocoa until smooth.
Stirring occasionally, warm egg whites over a pot of boiling water (approximately 3 minutes).
Next, whip eggs with a hand blender so you have as firm a mousse as possible.
If you have any trouble, add a pinch of salt.
Fold egg whites carefully into ricotta and stir this mixture until it's smooth.
Spoon into bowls and refrigerate for at least 3 hours.
Share this recipe with a friend:
| | | |
| --- | --- | --- |
| | Preparation time | 15 minutes |
| | Yields | 6 servings |
Nutritional information / 1 serving
Calories
166 Kcal
Carbohydrates
18 g
Fiber
1 g
Proteins
11 g
Fat
7 g
I am a fit food wizard nutritionist and I conjure up these healthy and tasty fitness recipes.
My goal is to show you that eating healthy can be easy-breezy.
Lucia Wagner
Comments
✉️ Send me your favorite recipe.
Do you like to cook healthy and want to publish your favorite recipe on Fit Food Wizard?
Email
it to me and I will be happy to try it and publish it.