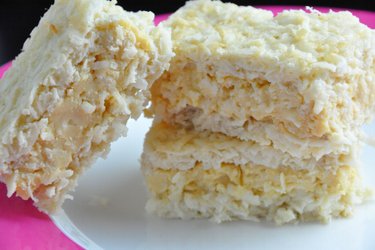 Coconut Cake with Egg Yolk Pudding (Gluten-Free)
Share this recipe with a friend:
Interesting, sweet and tasty desserts with coconut are my cup of tea. I like to prepare and invent them because they are healthy, easy, and as you probably already know, I adore coconut. If you are a coconut and homemade pudding lover too, the recipe for a healthy coconut cake with egg yolk pudding will take your heart.
The crunchy coconut dough is made of three really nutritious and popular ingredients: honey, egg whites and coconut, which will give health beneficial power to this recipe, energy to your body without depositing unnecessary pounds, and sweet caress to your heart, melting on your tongue.
Proper homemade egg yolk pudding for this coconut cake is very easy to prepare. You don't need any starch or refined sugar or any other powdered flavorings. The main ingredient here is coconut again, which is also good for digestion and liver, thus feel no guilt indulging in this dessert. Great taste of pudding is complemented by egg yolks and medicinal honey combined with milk.
In order to maintain the right consistency of pudding, we will use gelatin and a healthier version of the flour, a favorite chickpea flour. We will enrich the pudding with plain yogurt to soften the vanilla flavor. It will, in return, deliver the necessary proteins and will strengthen our bones with calcium.
Healthy coconut cake with egg yolk pudding is perfectly suited as a delicious Sunday cake after a healthy lunch or as a sweet breakfast for a successful start into a new day.
Instructions
Prepare dough first.
In a bowl, mix egg whites, shredded coconut, and sweetener. This recipe doesn't require whisking egg whites.
Pour dough into a baking pan lined with parchment paper.
Bake at 175 degrees (345 °F) for 20 minutes, until golden.
While dough is baking, prepare egg yolk pudding.
Sprinkle gelatin over 5 Tbsp water, stir, and let thicken.
Next, fold in egg yolks, sweetener, and vanilla extract and mix thoroughly.
Add milk mixed with chickpea flour.
Let mixture cook, stirring occasionally.
When pudding starts to boil, add shredded coconut.
After 3 minutes, remove from the heat and fold in white yogurt to make the mixture smoother.
When dough is done and cooled, cut it in half and place one piece into a container/pan.
Pour egg yolk pudding over this layer and cover with remaining coconut dough.
Refrigerate in a sealed container overnight, or for at least 7 hours, and let set.
Share this recipe with a friend:
| | | |
| --- | --- | --- |
| | Preparation time | 25 minutes |
| | Yields | 8 slices |
Nutritional information / 1 slice
Calories
170 Kcal
Carbohydrates
17 g
Fiber
2 g
Proteins
7 g
Fat
9 g
I am a fit food wizard nutritionist and I conjure up these healthy and tasty fitness recipes.
My goal is to show you that eating healthy can be easy-breezy.
Lucia Wagner
Comments