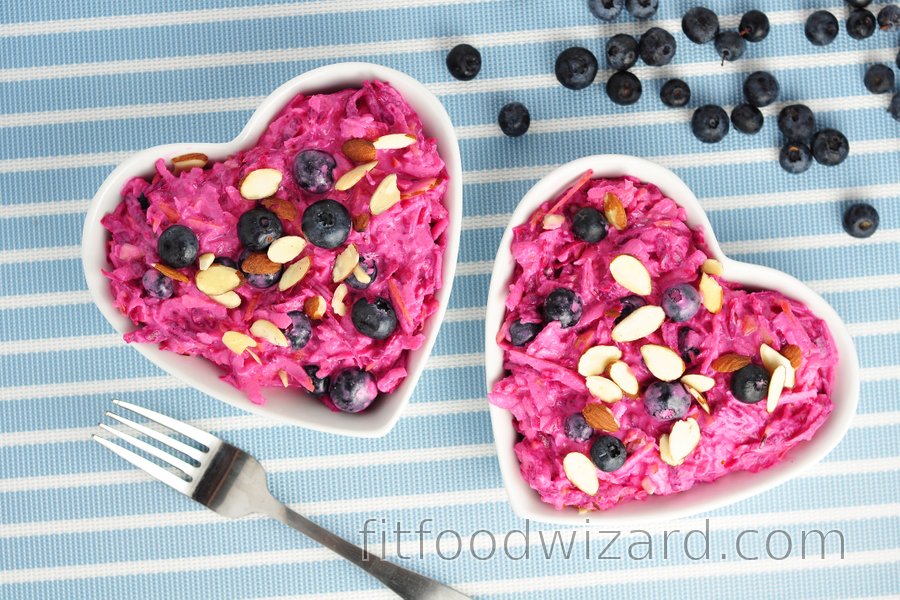 Creamy beetroot-apple salad with blueberries
Refreshing salad made from apples, beetroot, and blueberries with crunchy nuts. This low-calorie salad that is full of fiber is excellent as a healthy breakfast or snack. Thanks to the beetroot, it has a beautiful pinkish color and it smells and tastes amazing! It will be ready in just a few minutes and believe me, you will also eat it in no time :)
The flavor combination of apple and beetroot is truly irresistible and on top of that this duo is full of vitamins and minerals. Therefore, I decided to get this combination to a new level and make a tasty salad. Together with plain yogurt, it creates beautiful color and at the same time has a subtle, creamy taste. Cinnamon makes this creamy beetroot-apple salad smell great and blueberries add another range of healthy nutrients, making this healthy salad an ideal vitamin bomb in the chilly autumn season. Especially during changes in the weather, we should pay attention to a sufficient amount of vitamins in the diet and therefore consume more fruits and vegetables.
Serve this creamy beetroot-apple salad with blueberries sprinkled with crunchy nuts, such as almonds or cashew nuts. They taste sweeter than walnuts and are ideal for this healthy salad.
Instructions
Wash the beets and apples, peel them and grate them finely.
In a bowl, mix them with yogurt, cinnamon, and blueberries.
Finally, sprinkle the salad with nuts.
If necessary, you can sweeten the salad with a little bit of honey.
Serve the salad immediately, or leave it to set in the fridge.
| | | |
| --- | --- | --- |
| | Preparation time | 15 minutes |
| | Yields | 2 servings |
Nutritional information/ 1 serving
Calories
245 Kcal
Carbohydrates
30 g
Fiber
9 g
Proteins
7 g
Fat
8 g