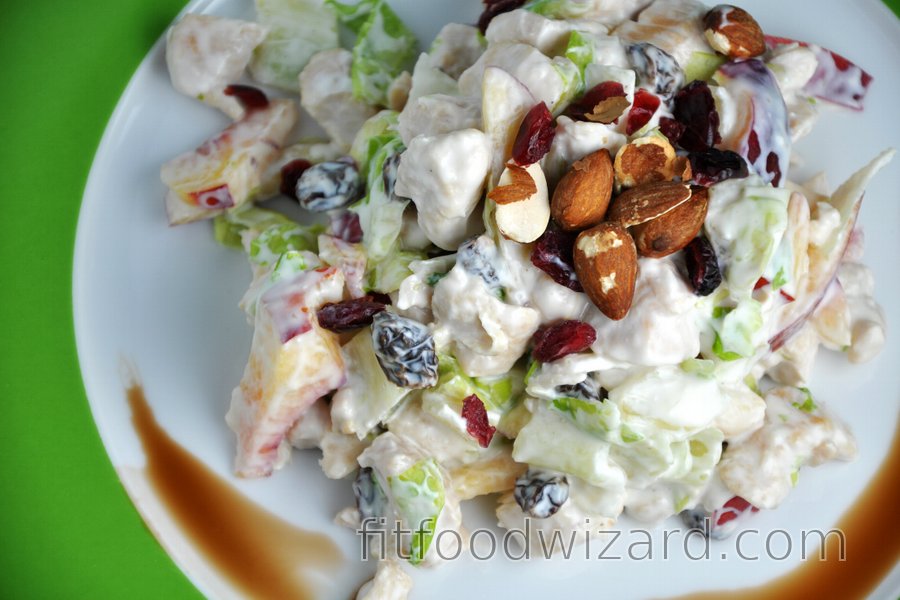 Delicious Fruit Chicken Salad
Try out this refreshing fruit salad with chicken, that fills you up and satisfies your taste buds. Inside it you will find perfectly balanced flavors, vitamins, minerals, fiber and a good amount of protein as well.
I like chicken salads for their simplicity, taste, and last but not least for their beneficial nutritional values. However, I vary their flavors as prevention from overeating them, and this is how a recipe for this fruit chicken salad was created. Believe me, it's delicious and is definitely worth trying out. I prefer it with peach and red grapes, but you can use other fruits as well, such as strawberries or cherries. And I definitely recommend adding celery stalks and nuts, that will provide irresistible crunchiness to this salad.
Salad dressing is made of plain yogurt, seasonings and lemon juice. I used plain yogurt, but if you prefer thicker salads, replace it with plain Greek yogurt (preferably up to 3% fat).
This salad can be served separately, but it also goes very well as a filling into savory pancakes, pita or sandwiches. Its preparation shouldn't take more than 20 minutes, so it's also suitable as a fast and healthy dinner. I prefer to enjoy this salad during the summer, with balsamic vinegar poured over it, yummy!
Ingredients
200g (7oz) chicken breasts
120g (4oz) plain yogurt
40g (1.4oz) dried cranberries/raisins
40g (1.4oz) almonds (I recommend these)
peach/nectarine
1 Tbsp lemon juice
handful of lettuce
handful of fresh grapes (optional)
celery (optional)
a pinch of ground black pepper
a pinch of cinnamon (I recommend this one)
2 tsp. balsamic vinegar
Instructions
Cut chicken breasts into small pieces and grill on a dry pan until golden.
When done, leave to cool and put into a bowl with already mixed yogurt and lemon juice.
Add chopped vegetables and fruit, cranberries, and almonds.
Mix the salad and season with black pepper and cinnamon.
Drizzle with balsamic vinegar and serve.
| | | |
| --- | --- | --- |
| | Preparation time | 20 minutes |
| | Yields | 2 servings |
Nutritional information/ 1 serving
Calories
369 Kcal
Carbohydrates
27 g
Fiber
5 g
Proteins
32 g
Fat
14 g