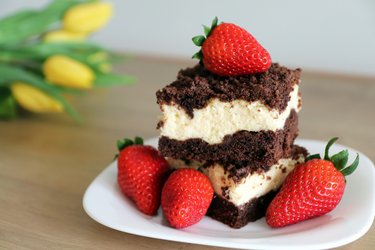 Fit grated quark cake
Share this recipe with a friend:
If you are looking for a recipe for a healthy cake with quark and cocoa dough, be sure to try this perfect fit grated quark cake. It will win you over with its unique flavor, high protein content, but also the simplicity of its preparation.
This healthy grated quark cake has a perfect consistency, but at the same time, it is soft and juicy. The basic ingredients used in the recipe are quark, spelt flour, eggs, protein powder, and cocoa powder. And thanks to the protein powder and quark, the cake has a high protein content.
I recommend using xylitol to sweeten the cake, but if you want, you can replace it with classic cane sugar or a little more exotic coconut sugar. Protein powder can be replaced with 40 g of chocolate pudding powder and sweetened with 2 tablespoons of sweetener if you prefer. Vanilla protein can be replaced with vanilla pudding powder.
With this quark dessert, you will surely please your whole family or guests. Decorate it on a plate with fresh strawberries or mint and no one will resist.
The recipe is so simple and you will love the end result! The listed ingredients will make for 6 large pieces.
Instructions
Prepare the dough by putting egg yolks, coconut oil or room temperature butter (I put half and half, i.e. 40 g + 40 g), finely mixed xylitol, spelt flour, protein powder, baking soda, cocoa powder in a bowl, and mixing the ingredients together into a dough.
Add water as needed until you form a non-sticky solid dough.
Put the dough in the fridge for at least 30 minutes.
Then divide it into two parts.
Roughly grate the first part of the dough on a grater.
Lay it on the bottom of a mold lined with baking paper (measuring approximately 25x18 cm).
Cover the bottom part of the dough with filling. The filling is prepared by mixing the quark together with yolk, protein powder, vanilla aroma, lemon juice, and sweetener using a hand mixer and then lightly mixing in egg whites whipped into the snow.
Grate the second part of the dough evenly on the quark filling and bake the cake for about 30 minutes at 180 degrees.
Share this recipe with a friend:
| | | |
| --- | --- | --- |
| | Preparation time | 70 minutes |
| | Yields | 6 slices |
Nutritional information /
Calories
373 Kcal
Carbohydrates
24 g
Fiber
4 g
Proteins
23 g
Fat
18 g
I am a fit food wizard nutritionist and I conjure up these healthy and tasty fitness recipes.
My goal is to show you that eating healthy can be easy-breezy.
Lucia Wagner
Comments