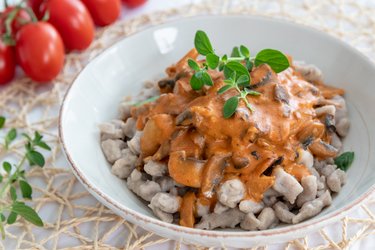 Fit mushroom paprikash with buckwheat gnocchi
Share this recipe with a friend:
If you love mushrooms, then this fit mushroom paprikash with buckwheat gnocchi is the food created just for you. Enjoy this delicious meatless dish with a decent content of protein, minerals, and fiber. You will definitely love it :)
Thanks to mushrooms and nutritionally valuable buckwheat flour, this food is a great source of almost the entire range of micronutrients. One serving of this meal will give you almost 100% of the recommended daily dose of vitamin D, copper, riboflavin, magnesium, and niacin. Furthermore, folic acid, phosphorus, iron, selenium, vitamin B6, and thiamine are also present in high amounts. Mushroom paprikash is also so easy to prepare.
I recommend serving fit mushroom paprikash with buckwheat gnocchi. However, you can also replace them with any pasta if you do not have time to prepare homemade gnocchi.
Tip: You can thicken mushroom paprikash with a mixture of milk, cream, and a little flour or starch. You can also choose plant-based cream and milk. And if you don't need the sauce in the meal, you don't have to thicken the paprikash at all. This will also save you extra calories and fat - so it's up to you. In this recipe, I used a mix of champignons and oyster mushrooms. If you have other fresh mushrooms at home, you can use them as well.
Ingredients
1 and 1/2kg of mushrooms (champignons, oyster,..) - can be a mix
200ml of soy cooking cream (or regular cooking cream)
200ml of milk
2 tbsp of flour or starch
2 tbsp of butter
1 onion
3 tbsp of paprika (sweet)
1 tsp of salt
1/2 tsp of ground black pepper
1/4 tsp of ground cumin
For buckwheat gnocchi:
350g of buckwheat flour (I recommend this one)
1/2 tsp of salt
280-300ml of water
Instructions
In a larger pot, fry the finely chopped onion in heated butter.
Add sliced mushrooms and fry them with onion for a while.
Take the pot off of the flame, add all the spices and salt to the mushrooms, stir well, and put back on the flame.
Stew the mushrooms covered for 10 minutes.
In the meantime, combine all the ingredients for buckwheat gnocchi together. If the dough is too thick, add a little more water and if it is too thin, add more flour.
Put the gnocchi dough into the boiling water using a sieve or sifter with bigger holes and cook the gnocchi on a low flame until they all float on top - about 8 minutes.
Strain the gnocchi and rinse them lightly with cold water.
In a small bowl or bottle, mix cream, milk, and 2 tablespoons of any flour or starch.
Mix the cream mixture into the mushrooms. Cook with occasional stirring for another 10 minutes.
Cooked gnocchi is served topped with a mushroom mixture.
Share this recipe with a friend:
| | | |
| --- | --- | --- |
| | Preparation time | 40 minutes |
| | Yields | 4 servings |
Nutritional information /
Calories
525 Kcal
Carbohydrates
83 g
Fiber
11 g
Proteins
22 g
Fat
10 g
I am a fit food wizard nutritionist and I conjure up these healthy and tasty fitness recipes.
My goal is to show you that eating healthy can be easy-breezy.
Lucia Wagner
Comments