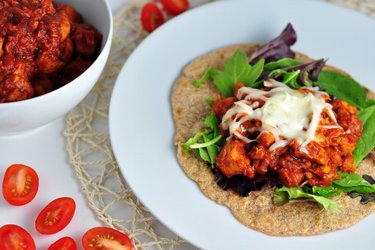 Fitness BBQ chicken breasts with spelt pancakes
Share this recipe with a friend:
Fitness BBQ chicken breasts with spelt pancakes - healthy lunch or dinner with chicken the whole family will enjoy. Treat yourself to the taste of barbeque meat full of protein in a tasty sauce with a pancake made out of spelt flour. If you like tortillas or stuffed pancakes, you must try this healthy recipe out.
These homemade spelt pancakes do not contain eggs, milk, or yeast. Spelt flour is rich in fiber and protein, and these light pancakes will be ready in just a few minutes, without the use of oil. You can fill them with anything, roll them up, and pack them up for lunch at work, school, or even on the road. The advantage of these pancakes is that they taste amazing as warm, as well as cold.
BBQ chicken breasts are very easy to prepare - chicken meat is one of the easiest to cook. To get the great barbeque taste, use tomato puree, Worcestershire sauce, mustard, and honey in this fit recipe. The meat will soak up all the flavors, will be beautifully tender and you will want to lick the plate afterwards so that you can enjoy every last bit. This combination is perfect with lettuce and these spelt pancakes, but I believe that you will fall in love with this meat recipe and you will want to prepare it in many other variations. You can also serve the meat with rice or vegetable fries (in this case, however, make the sauce a little thinner so that you have something to pour over the side dish).
Ingredients
400g of chicken breasts
50g of tomato puree
1 onion
3 tbsp worcestershire sauce
2 tbsp of vinegar
1 tbsp of mustard
1 tbsp of honey (I recommend this one)
1 tbsp of oil
sea salt
black pepper
paprika
for the garnish:
100g of grated cheese
lettuce
for the pancakes:
1 1/2 cups of spelt flour (I recommend this one)
1/2 cup of warm water
2 tbsp of olive oil (I recommend this one)
1 tsp of sea salt
Instructions
Heat a tablespoon of oil in a pot, add finely chopped onion and lightly sweat it.
Add sliced ​​chicken breasts, stir, add tomato puree, spices, salt to taste, and cover with water so that the water level is just above the chicken.
Cook the meat uncovered for 20 minutes.
Then add Worster sauce, honey, vinegar, mustard, and cook with occasional stirring until the sauce reaches the desired consistency and the meat is falling apart.
In a bowl, mix spelt flour with warm water, sea salt, and olive oil.
From the resulting dough, create balls and roll them out into pancakes. If the dough sticks too much, you can roll out the pancakes between two sheets of baking paper.
Cook each pancake in a dry pan for 1 minute on both sides.
You should get 4 larger pancakes from the listed amount of ingredients.
Fill the finished pancakes with lettuce, chicken, sprinkle with cheese, and serve warm.
Share this recipe with a friend:
| | | |
| --- | --- | --- |
| | Preparation time | 50 minutes |
| | Yields | 4 servings |
Nutritional information / 1 serving
Calories
495 Kcal
Carbohydrates
40 g
Fiber
7 g
Proteins
36 g
Fat
17 g
I am a fit food wizard nutritionist and I conjure up these healthy and tasty fitness recipes.
My goal is to show you that eating healthy can be easy-breezy.
Lucia Wagner
Comments