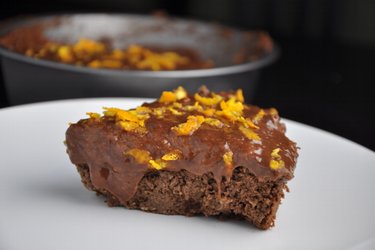 Healthy Chocolate-Orange Chickpea Cake
Share this recipe with a friend:
Certainly, you've already noticed with my recipes, that the chickpea can be used as a clever substitute for flour or fat in the desserts without any problems. Treat yourself and try healthy chickpea with a distinct chocolate and orange flavor in the form of an excellent, flourless cake. The recipe is really easy and I believe that this healthy chocolate-orange chickpea cake will definitely win a place of honor in your dessert menu. You will not even notice the chickpea and avocado in this recipe.
This healthy version of a chocolate cake is full of fiber, vitamins, minerals, contains high amount of protein, micronutrients, low sugar levels, no flour and no redundant fat. Chocolate-orange chickpea cake is relatively low calorie and is also suitable for celiacs. If you love bananas, the perfection of chocolate cake in this recipe is crowned with a healthy and tremendously delicious avocado-banana icing. Just like a dream. You can replace cane sugar with coconut sugar or with a low calorie sweetener - xylitol.
All ingredients together create a balance of flavors and tender consistency. The combination of avocado and cocoa is excellent and will never disappoint. I bringing you a quick and easy recipe for the healthy chocolate-orange chickpea cake that is created for all chocolate lovers, but in more healthy and nutritionally balanced version.
Instructions
Soak chickpeas in water overnight, rinse, and then cook in slightly salted water until tender.
In a blender, blend cooked chickpeas together with water, coconut oil, and the juice of 1 orange until it is as smooth as possible.
Pour this mixture into a bowl and fold in all the remaining ingredients.
Pour dough into a non-stick cake pan (with diameter of approx. 20cm) or into a different pan.
Bake cake for 40 to 50 minutes at 180 degrees Celsius (350 °F). The cake is done when a skewer comes out clean.
Blend bananas, half of an avocado, and cocoa in a blender until smooth.
Spread the icing over cooled dough and sprinkle with some orange peel.
Refrigerate cake for at least 2 hours.
Share this recipe with a friend:
| | | |
| --- | --- | --- |
| | Preparation time | 60 minutes |
| | Yields | 8 slices |
Nutritional information / 1 slice
Calories
225 Kcal
Carbohydrates
38 g
Fiber
6 g
Proteins
7 g
Fat
8 g
I am a fit food wizard nutritionist and I conjure up these healthy and tasty fitness recipes.
My goal is to show you that eating healthy can be easy-breezy.
Lucia Wagner
Comments
✉️ Send me your favorite recipe.
Do you like to cook healthy and want to publish your favorite recipe on Fit Food Wizard?
Email
it to me and I will be happy to try it and publish it.