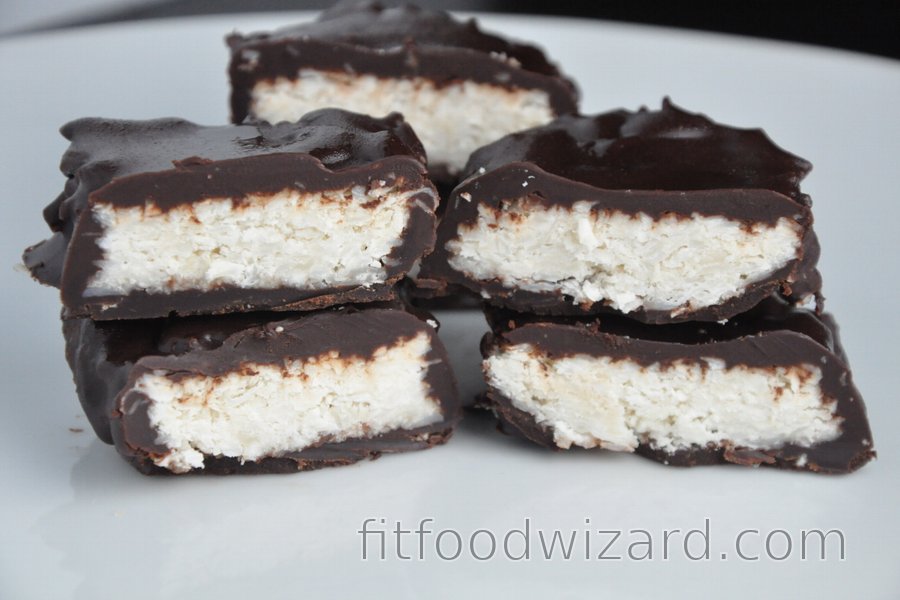 Healthy Coconut Bars (Gluten-Free)
These healthy coconut bars are a great healthy alternative to a variety of commercial coconut bars full of sugar and saturated fats and I must say that they taste even better! Try them out, you will not regret this decision. We adore them at home :)
Preparation of these homemade coconut bars is very easy and quite fast. An important step in their preparation is to put them into the freezer before they are dipped into chocolate, so that they will become solid and easy to work with. After dipping in chocolate, it's good to put them back into the freezer, because if chocolate will set on them quickly, bars will become perfectly crunchy from outside and tender inside. If the chocolate melted with coconut oil is too thin, let it sit in the refrigerator for a while, let it thicken a little, and then dipping the bars will be much easier.
Coconut bars are rich in fat and calories, thanks to the abundant amount of coconut, coconut oil and dark chocolate used, so don't eat them all at once, but rather enjoy them once in a while, especially if you want to sin with some proper sweets.
If you want to prepare these coconut "bounty" bars in protein fitness version, just add protein powder into the dough (coconut or vanilla flavor is the best). 1 cup in the recipes represents volume of 250 ml.
Instructions
In a food processor (or by hand), blend all ingredients for the filling. The mixture should soften.
Press the coconut filling into the bottom of a smaller container or baking pan.
If you want to use almonds as well, add them to the filling.
Place the pan into the freezer for 10 to 15 minutes.

In the meantime, melt chocolate and coconut oil in a small pot over light heat or over a pot of boiling water.
If too thick, add some coconut oil, and if too thin, add more dark chocolate.
As soon as the filling is set, cut it into pieces.
Dip each coconut piece into chocolate icing and then place into the freezer for 20 minutes.
After approximately 10 minutes, place bars into the refrigerator and let set for at least 8 hours.
Store coconut bars in a sealed container in the refrigerator.
| | | |
| --- | --- | --- |
| | Preparation time | 15 minutes |
| | Yields | 10 slices |
Nutritional information/ 1 slice
Calories
273 Kcal
Carbohydrates
10 g
Fiber
4 g
Proteins
2 g
Fat
25 g