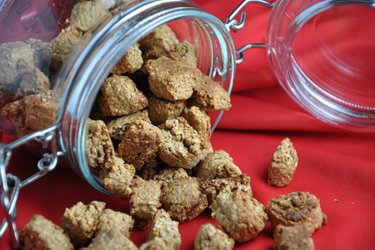 Healthy Gingerbread Cookies
Share this recipe with a friend:
Great traditional danish Christmas gingerbread cookies, redesigned into a healthier version. You can perfume your apartment throughout the year, also out of Christmas. They are crunchy and delicious, it is even much easier to prepare them, than to prepare gingerbread. They taste equally well, and are even nutritionally valuable. Believe me, they are worth of trying.
During my stay in Denmark during Christmas, I enjoyed their traditional gingerbread cookies called Pebbernodder. Because I liked them so much, I was always able to eat more of them than it would be good, and then of course, compunction appeared. These traditional cookies are quite caloric and rich in sugars and fats. That's why I started to think how could I make them in a healthier and more fit version and after a few unsuccessful attempts I finally came up with this recipe that looks very similar to those original ones. These Christmas cookies are healthy, rich in fiber, vitamins and minerals, and will also fill you up in this version. Oats, whole-wheat flour and honey appear in the main role in them.
In addition, these healthy Christmas cookies are easy to prepare, highly addictive, and will perfume your entire apartment during baking. I'm sure the whole family will want to crunch them.
Instructions
In a small pot, melt butter, remove from heat, and mix with chosen sweetener.
When butter is cooled, fold in egg and stir.
In a bowl, mix all the dry ingredients and then fold in the butter mixture.
Knead dough by hand and then divide into smaller pieces. Shape every piece into a long roll and cut into small pieces.
Place them onto a sheet lined with parchment paper and bake at 200 degrees Celsius (390 °F) for 4 minutes.
After 4 minutes, lower the temperature to 100 degrees Celsius (210 °F) and bake for another 20 to 30 minutes until crunchy and brown.
Share this recipe with a friend:
| | | |
| --- | --- | --- |
| | Preparation time | 45 minutes |
| | Yields | 10 servings |
Nutritional information / 1 serving
Calories
168 Kcal
Carbohydrates
27 g
Fiber
2 g
Proteins
4 g
Fat
6 g
I am a fit food wizard nutritionist and I conjure up these healthy and tasty fitness recipes.
My goal is to show you that eating healthy can be easy-breezy.
Lucia Wagner
Comments
✉️ Send me your favorite recipe.
Do you like to cook healthy and want to publish your favorite recipe on Fit Food Wizard?
Email
it to me and I will be happy to try it and publish it.