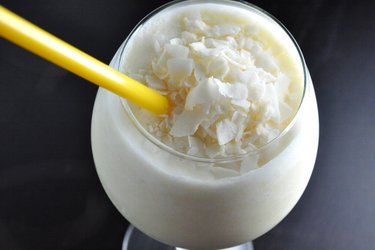 Healthy Piña Colada
Share this recipe with a friend:
Do you like refreshing piña colada? In that case, definitely try to prepare it in this healthy version. You will only need 2 basic ingredients for this easy and healthy piña colada. It is luscious, but completely sugar-free and so far everyone who tried it, liked it a lot.
Many of us have a longing for mixed drinks during hot summer. However, classic piña colada usually contains a mixture of heavy cream, pineapple, alcohol, different flavored syrups and a lots of sugar. In some cases, you won't even find any fruit inside it. Therefore, it is quite rich in carbohydrates, fats and calories as well. One drink can even contain hundreds of calories, which makes it equal to eating a full meal. However, we want to enjoy this delicious summer drink without guilt, so we will prepare this piña colada in a healthy and light version that will supply our bodies with a lot of vitamins, but will also bring pleasure to our taste buds.
To achieve irresistible creaminess, surely use full fat canned coconut milk in the recipe, not milk from the box. In this easy recipe, coconut milk is complemented with sweet, yet refreshing pineapple, ice pieces, and if desired, sprinkled with shredded coconut.
Discover this healthy exotic pineapple-coconut milk drink and enjoy the summer as befits. Whether or not you add alcohol into this healthy piña colada, I will leave that to you and to the occasion, for which you are preparing this drink. You can even prepare healthy popsicles from this piña colada. Just pour the mixture into popsicle molds and freeze overnight, yummy!
Ingredients
1 can coconut milk (full-fat) (I recommend this one)
2 cans pineapple in its own juice (or 500g (17.6oz) fresh pineapple)
1 cup of ice cubes
shredded coconut to sprinkle
Instructions
In a blender, blend all ingredients together, except shredded coconut, for approximately 30 seconds.
Serve piña colada right after blending.
Sprinkle with shredded coconut and decorate with a slice of pineapple.
If you're making popsicles, you can pour piña colada into popsicle molds and freeze for at least 2 hours.
Share this recipe with a friend:
| | | |
| --- | --- | --- |
| | Preparation time | 7 minutes |
| | Yields | 5 servings |
Nutritional information / 1 serving
Calories
245 Kcal
Carbohydrates
19 g
Fiber
2 g
Proteins
2 g
Fat
17 g
I am a fit food wizard nutritionist and I conjure up these healthy and tasty fitness recipes.
My goal is to show you that eating healthy can be easy-breezy.
Lucia Wagner
Comments
✉️ Send me your favorite recipe.
Do you like to cook healthy and want to publish your favorite recipe on Fit Food Wizard?
Email
it to me and I will be happy to try it and publish it.