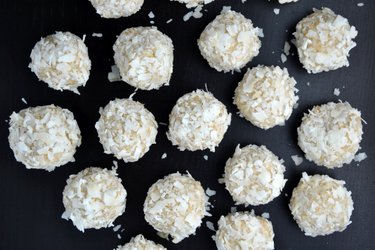 Healthy Raffaello Coconut Balls
Share this recipe with a friend:
Delicious and healthy raffaello coconut balls without any flour or condensed milk, with lower sugar and fat content, suitable for example as a healthy Christmas sweets. If you enjoy healthy coconut recipes too, you must try this one - it is truly one of my favorites.
They are loved by many and when you try them, you will find out why is that, for sure. Some of you have asked me whether you can omit powdered milk in the recipe. I definitely recommend not to omit it, because it adds a special, delicious taste to the coconut balls. You can replace cane sugar with xylitol, which would result in a lower amount of calories and carbohydrates in the recipe. Thanks to the fact that these coconut balls are more rich in fat, they quickly fill you up and you will not eat too many of them.
Their preparation is totally easy and quick, just mix all the ingredients together, knead by hand, form the balls and coat with shredded coconut. You can place a hazelnut or almond inside each ball. Healthy raffaello coconut balls with oats will last for 3-4 weeks in a refrigerator in a sealed container, so their advantage is that you can also prepare them before Christmas and keep them in stock during the whole Holiday season (of course unless you will eat them all, together with your family even before Christmas).
Be sure not to use hydrogenated vegetable oils and margarines - artificial "foods" involved in cardiovascular diseases in a very high degree. Better prepare these balls and other Christmas desserts with a classic butter.
Instructions
Grind oats or blend in a blender until you have flour.
In a bowl, mix grounded oats, shredded coconut, milk powder, cane sugar, vanilla seeds (or extract), melted butter, and ¼ cup water.
Knead dough by hand and if it's too dry, add some water.
If you put too much water and the dough becomes too slippery, refrigerate for 15 minutes.
When done, shape dough into balls and coat with shredded coconut.
You can place a hazelnut inside every ball.
Store balls in a sealed container in the refrigerator.
Share this recipe with a friend:
| | | |
| --- | --- | --- |
| | Preparation time | 25 minutes |
| | Yields | 40 balls |
Nutritional information / 1 ball
Calories
78 Kcal
Carbohydrates
7 g
Fiber
1 g
Proteins
2 g
Fat
5 g
I am a fit food wizard nutritionist and I conjure up these healthy and tasty fitness recipes.
My goal is to show you that eating healthy can be easy-breezy.
Lucia Wagner
Comments
✉️ Send me your favorite recipe.
Do you like to cook healthy and want to publish your favorite recipe on Fit Food Wizard?
Email
it to me and I will be happy to try it and publish it.