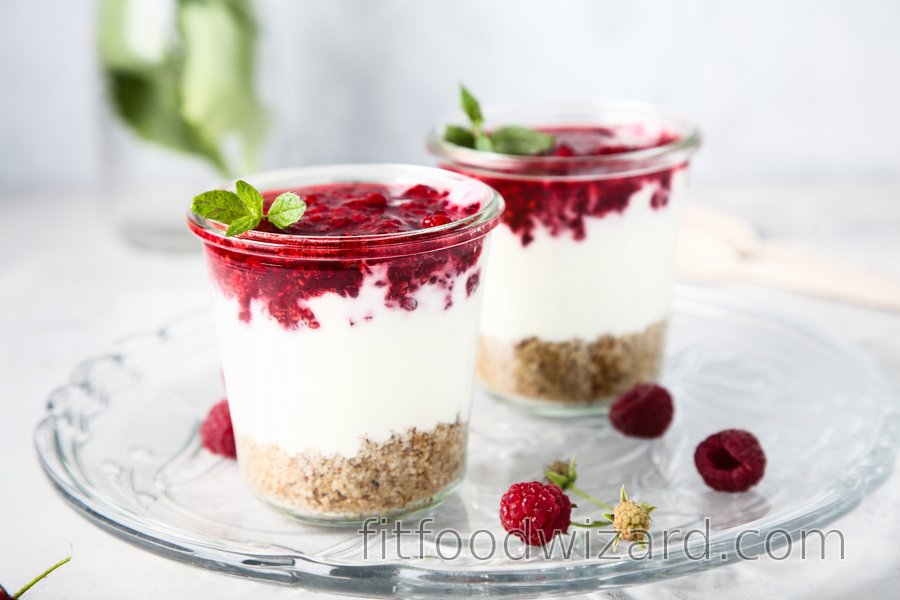 Healthy raspberry cheesecake in a jar
Cheesecake for breakfast? With this recipe, this naughty idea becomes a reality and completely without remorse. Save this delicious, fit and simple recipe for a healthy raspberry cheesecake in a jar, without baking - it is perfect either for breakfast or as a dessert. It has a high protein content, is ready within 15 minutes, and also satiates well.
This no-bake fit raspberry cheesecake in a jar contains nuts in the dough, thanks to which you get a dose of healthy fats and micronutrients. At the same time, it is also gluten-free so you can please celiacs with this recipe. However, if you would like to prepare more diet-friendly version, you can replace some of the nuts with oats and use xylitol or stevia instead of honey for sweetening.
I recommend adding a low-fat Greek yogurt to the filling, thanks to which you can look forward to an irresistibly creamy taste and at the same time a good dose of protein, but low fat and lower calorie content. Alternatively, you can combine yogurt with a soft quark.
Be sure to try this fit raspberry cheesecake in a jar and don't forget to let me know how you liked it! :)
Instructions
In a food processor (I recommend this one) , blend together nuts, a tablespoon of honey, and cinnamon.
Divide the resulting crumbly dough and press it to the bottom of 4 jars or bowls.
In a bowl, mix yogurt (or soft quark) with 4 tablespoons of honey and vanilla extract. For an even more delicious taste, I recommend whipping the filling for a while.
Pour the filling evenly on the prepared dough in cups.
In a small pot, mix the raspberries with 2 tablespoons of water and cook them until soft.
Let the raspberries cool for a while and then pour them over the top of the cheesecakes.
The cheesecake can be served immediately or left to set in the fridge for a few hours.
| | | |
| --- | --- | --- |
| | Preparation time | 15 minutes |
| | Yields | 4 servings |
Nutritional information/ 1 serving
Calories
352 Kcal
Carbohydrates
35 g
Fiber
7 g
Proteins
18 g
Fat
15 g