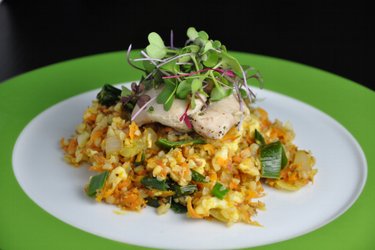 Light Chicken Thighs on Buckwheat-Carrot-Leek Salad
Share this recipe with a friend:
Soft chicken thighs boiled in water, served on a tasty buckwheat-carrot-leek salad. Healthy, low-calorie meal full of protein, suitable as a nutritious lunch or dinner. Light chicken thighs on buckwheat salad will fill you well and will supply your body with a good dose of vitamins and minerals. Feel free to prepare this tasty and nutritionally valuable lunch for the entire family.
Buckwheat is versatile and naturally gluten-free, therefore also suitable for celiacs, contains proteins, complex carbohydrates and fiber and has a high content of minerals and a wide range of vitamins. It is also famous for its high content of rutin, which helps to increase vascular elasticity in venous diseases. Leek is rich in carotenes and vitamins C and E. It contains selenium, a lot of fiber, promotes immunity and purifies the blood and intestines from bacteria and yeast. Neither carrot will disappoint, and if you add it to your meals regularly, your cognitive skills will be improved and you will start to remember what you have been always forgetting before.
This buckwheat salad is very simple to prepare and yet tastes great! Do not dispose the water from boiled chicken thighs. You can add in vegetables and use it to cook chicken soup, or put the stock away into the freezer for other recipes, such as risotto.
Ingredients
2 chicken thighs (without bone and skin)
1 tsp salt (I recommend this one)
1/2 tsp ground black pepper
1/2 tsp ground ginger
1/2 tsp garlic powder
For the salad:
100 g (3.5 oz) buckwheat (I recommend this one)
150 g (5.3 oz) carrots
1/2 onion
1/4 leek
1-2 Tbsp butter
sea salt
pinch of turmeric (optional)
grated cheese (optional)
Instructions
Rinse chicken thighs and place them in a pot where they are poured with water, salted, seasoned and cooked over a low flame for 25-30 minutes.
In a smaller pot, combine the buckwheat and water and boil for about 10 minutes.
Don't boil it for too long, don't overcook (if you don't want to get a mushy consistency).
Drain cooked buckwheat of excess water and place it in a bowl.
Melt one or two tablespoons of butter in the pot where we cooked buckwheat.
Chop onion finely and sauté gently on melted butter.
Next, add grated carrot and leek and roast for 2 minutes.
Remove pot from the heat. Mix the contents with buckwheat, sea salt, and if desired, with grated cheese and turmeric as well.
Serve with a warm, cooked chicken thigh. You can also add some fresh vegetables.
Share this recipe with a friend:
| | | |
| --- | --- | --- |
| | Preparation time | 40 minutes |
| | Yields | 2 servings |
Nutritional information / 1 serving
Calories
385 Kcal
Carbohydrates
37 g
Fiber
8 g
Proteins
34 g
Fat
9 g
I am a fit food wizard nutritionist and I conjure up these healthy and tasty fitness recipes.
My goal is to show you that eating healthy can be easy-breezy.
Lucia Wagner
Comments