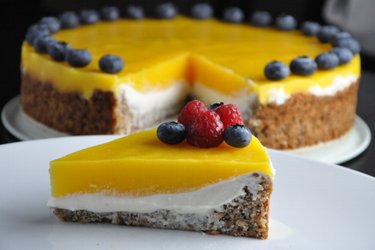 Mango Cake with Ricotta Filling
Share this recipe with a friend:
Are you in mood for fresh and healthy cake with a tropical touch and a creamy, but not heavy filling? In that case, definitely prepare this healthy mango cake with ricotta filling. The cake is even completely free of flour, oil, or refined sugar.
We love this cake at home and many blog readers liked it too. There is nothing to wonder, just when you look at the ingredients, you can see that it will be extraordinary. The cake contains a ricotta filling that has a pleasant, specific flavor and is not so heavy and fat, unlike mascarpone or cream cheese. Ricotta filling will be a bit thinner, which doesn't matter at all, but if you want it to become as firm as the mango layer, you can also add 20 g of gelatin into it.
The filling is sweetened by honey, the corpus with banana, and the sweet taste of icing is provided by the sweet mango. In the icing, don't forget to use 100% gelatin, without any additives, otherwise it may not get firm. I used a 25 centimeter cake pan for this fit mango cake. 1 cup has a standard volume of 250 ml.
Why add a mango to your healthy menu?
Mango has a high content of vitamins E, C, B, and carotene. Vitamin C is a strong antioxidant and strengthens cells; vitamin A protects mucous membrane, eyes and skin; and vitamin B is irreplaceable for protein synthesis, promotes nervous system functioning, and a calm sleep. Mango also has many minerals and trace elements such as copper, magnesium, manganese, potassium, and zinc - which results in nice hair, skin, and erythrocyte creation. It also positively affects the thyroid, high blood pressure, and hormones.
So do not hesitate and try this tasty and healthy mango cake with ricotta filling, I believe you will love it.
Instructions
Blend all ingredients together in a blender.
Line a cake pan with parchment paper and pour in the dough.
Bake at 185 degrees Celsius (360 °F) for 20 minutes until golden.
After baking, leave to cool.
Mix the ingredients for the filling until smooth, and spread onto the dough.
Place this cake into the refrigerator and prepare icing in the meantime.
Mix gelatin with water in a pot and let thicken (approximately 5 min).
Peel and pit mangos and blend in a blender until smooth.
Stirring occasionally, melt prepared gelatin over heat and then remove from heat.
Add mango mixture immediately and stir thoroughly.
Pour this mango icing on top of the cake.
Refrigerate the cake overnight (or for at least 5 hours).
Share this recipe with a friend:
| | | |
| --- | --- | --- |
| | Preparation time | 40 minutes |
| | Yields | 8 slices |
Nutritional information / 1 slice
Calories
364 Kcal
Carbohydrates
41 g
Fiber
5 g
Proteins
16 g
Fat
15 g
I am a fit food wizard nutritionist and I conjure up these healthy and tasty fitness recipes.
My goal is to show you that eating healthy can be easy-breezy.
Lucia Wagner
Comments