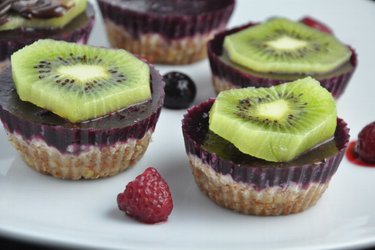 Marzipan-Fruit Cups
Share this recipe with a friend:
Thanks to this recipe, you will not only be a marzipan doll in the kitchen, but a skilled confectioner that prepares sweet and tasty marzipan-fruit cups easily and with love .
Healthy marzipan can be easily made at home, you only need 3 basic ingredients: peeled almonds, coconut oil and liquid sweetener (for example, honey). This soft confectionery mass comes from Italy and was greatly decorating delicious cakes already in ancient times. The essential ingredient of our marzipan are almonds that fight against diabetes, support healthy heart and bones, they are friends with our brain, and are even acting for the sake of losing weight. You don't need to be afraid of sweet marzipan, as we can prepare it in a healthy way.
A fresh fruit sauce for this dessert, consisting of small forest fruits, such as strawberries, raspberries and blueberries, will give a healthy, juicy flavor full of vitamins and nutrients to these marzipan-fruit cups. The cups are a great and fast treat if you have a need to indulge in sweets or offer an unusual dessert to your loved ones. They also go well with hot drinks and will create a relaxing atmosphere on exceptional moments.
Instructions
In a blender, blend almonds, melted coconut oil, and chosen liquid sweetener until the mixture is as smooth as possible.
Press this marzipan mixture into the bottom of silicone muffin cups or other silicone cups, and place into the freezer.
In the meantime, prepare the fruit sauce – warm fruit and water for 3 minutes in a pot and then blend with a hand blender or mash with a fork.
Fold in gelatin powder, maybe also sweetener, and warm again.
Remove the fruit mixture from the heat just before it starts to boil.
Leave the fruit mixture to cool and then place into the marzipan cups.
Place these cups in the refrigerator for at least 8 hours, and decorate them with fruit (optional) before eating.
Share this recipe with a friend:
| | | |
| --- | --- | --- |
| | Preparation time | 15 minutes |
| | Yields | 6 servings |
Nutritional information / 1 serving
Calories
186 Kcal
Carbohydrates
9 g
Fiber
4 g
Proteins
6 g
Fat
14 g
I am a fit food wizard nutritionist and I conjure up these healthy and tasty fitness recipes.
My goal is to show you that eating healthy can be easy-breezy.
Lucia Wagner
Comments
✉️ Send me your favorite recipe.
Do you like to cook healthy and want to publish your favorite recipe on Fit Food Wizard?
Email
it to me and I will be happy to try it and publish it.