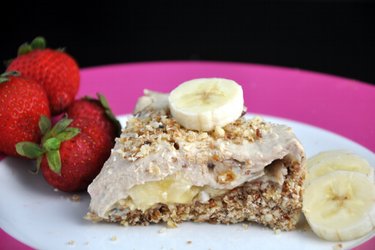 No-Bake Banana Cake "Heaven" (Gluten-Free)
Share this recipe with a friend:
With this amazing cake, you are literally verifying the validity of the verdict "heaven in the mouth". This no-bake banana cake recipe is perfect for those who don't like to bake, or for those who prefer quick, healthy and tasty desserts. This healthy cake is flourless and sugar-free, almonds and oats are used instead, and it is naturally sweetened using just dates and bananas.
A healthy crust made of bananas, almonds, dates (or raisins) and oats will form the basis for a cake full of fiber, proteins, vitamins and minerals, free from unnecessary sugars, so you are sure to combine delicious ingredients with respect to so-called skinny snacking :)
Peanut butter is a top for me in terms of natural sweetening and a delicious, creamy taste. Combined with quark and dates, it creates a unique smooth icing on the cake while packed with nutrients, and that fully sums up the name of this recipe for me: no-bake banana cake "heaven".
If you like smooth and refreshing quark, delicious flavor of peanut butter, crunchy almonds, bananas, sweet dates, gluten-free oats, preferably all together, definitely go for this no-bake banana cake. I recommend it as a healthy dessert for example after workout, but also as a nutritionally balanced sweet breakfast or an afternoon snack.
Instructions
Blend almonds and oats in a blender until they are finely chopped.
Fold in dates or dried raisins and blend until the ingredients are combined and dough is formed. If you have trouble with blending or the dough is too crumbly, add 1 to 2 spoonfuls of water.
Press dough into the bottom of a cake pan or a different pan (according to the ingredient amount, it should be a pan with a diameter of 15cm).
Place cut or mashed bananas onto the dough.
To prepare the icing, blend quark, dates, and peanut or almond butter in a blender until smooth.
Spread icing onto the cake and let set in the refrigerator for at least 8 hours.
If the cake falls apart while cutting, place it in the freezer for a few minutes.
Share this recipe with a friend:
| | | |
| --- | --- | --- |
| | Preparation time | 15 minutes |
| | Yields | 6 slices |
Nutritional information / 1 slice
Calories
285 Kcal
Carbohydrates
31 g
Fiber
7 g
Proteins
12 g
Fat
13 g
I am a fit food wizard nutritionist and I conjure up these healthy and tasty fitness recipes.
My goal is to show you that eating healthy can be easy-breezy.
Lucia Wagner
Comments