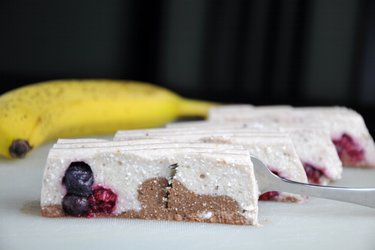 No-Bake Banana-Quark Dessert (Gluten-Free)
Share this recipe with a friend:
Bananas and quark. Yummy. An original dessert that is done in just a few minutes. You have to wait for a while until it will set, but the result is totally worth it. No need to bake, just have a reserved place in the refrigerator. Fall in love with this healthy no-bake banana-quark cake full of protein.
Indeed, the creamy banana-quark dessert doesn't contain any flour or starch, it is diet, low fat, yet it is still perfectly delicious. You only need symbolic ingredients and you can conjure up a healthy and delicious dessert in a while.
The recipe for no-bake banana-quark dessert was created on Sunday, when I only had ripe bananas and quark at home, and I wanted to enjoy something sweet in the afternoon. I believe this recipe will inspire you, if you get into a similarly serious situation :) I conjured up a sweet and tasty dessert that is flourless and gluten-free, so it can also be enjoyed by celiacs.
This banana-quark dessert is sweetened only with a little bit of honey, as bananas are sweet quite enough. It contains low amount of calories and you will also like a pinch of cocoa inside. If you want to make this no-bake banana-quark dessert really original, decorate it with your favorite berry fruit, which will help to connect sweet and sour flavors and add even more vitamins into the recipe. And if you'd like to add more proteins into this cake, mix in some protein powder of any flavor you like.
Instructions
In a blender, blend together bananas and quark.
Add gelatin that has been melted in the hot water and blend again.
When you have smooth dough, pour half of the dough into a container/pan and let the cake set. The higher the cake you want, the smaller a container/pan you should use.
Add a spoonful of cocoa and a spoonful of sweetener to the remaining dough and blend again.
Pour cocoa dough onto the first layer, sprinkle with fresh fruit, and let set in the refrigerator for at least 5 hours.
Share this recipe with a friend:
| | | |
| --- | --- | --- |
| | Preparation time | 10 minutes |
| | Yields | 8 slices |
Nutritional information / 1 slice
Calories
80 Kcal
Carbohydrates
10 g
Fiber
2 g
Proteins
9 g
Fat
0 g
I am a fit food wizard nutritionist and I conjure up these healthy and tasty fitness recipes.
My goal is to show you that eating healthy can be easy-breezy.
Lucia Wagner
Comments
✉️ Send me your favorite recipe.
Do you like to cook healthy and want to publish your favorite recipe on Fit Food Wizard?
Email
it to me and I will be happy to try it and publish it.