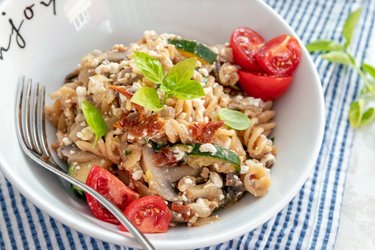 Pasta with cottage cheese and stewed vegetables
Share this recipe with a friend:
Are you looking for a quick and easy pasta recipe? Try, for example, this fit pasta with cottage cheese and stewed vegetables, which is not only healthy but also really tasty. And last but not least, it is important to mention the fact that this meal will be ready within 30 minutes.
I believe that it is not that easy for everyone to incorporate a sufficient dose of vegetables into their daily diet. However, with recipes like this one, it couldn't be easier! We will prepare vegetables in a tasty way and you will love them in combination with pasta and cottage cheese. I usually bet on zucchini and mushrooms in this recipe, as this flavor combination is just unbeatable for me. However, you can use other seasonal vegetables in the recipe, you cannot go wrong.
Cottage cheese is just delicious when combined with pasta and thanks to it, the whole meal is beautifully creamy. It is much more diet-friendly than regular creamy pasta sauces and is a great source of protein. So you can enjoy pasta with cottage cheese without any worries. In addition, this pasta is not at all heavy on the stomach. Even though it is a fresh type of cheese, you can easily reheat this fit pasta, if you do not have time to eat the whole portion immediately after cooking.
You can have pasta with cottage cheese and stewed vegetables ready on the table in half an hour, so come and start preparing. I'm sure you'll love it.
Ingredients
500g of wholegrain pasta (I recommend this one)
400g of cottage cheese
80g of dried tomatoes
400g of zucchini
400g of mushrooms (e.g. champignons)
1 onion
1 tbsp of olive oil (I recommend this one)
1 tsp of salt
pinch of ground black pepper and allspice
2 cloves of garlic
fresh basil (to taste)
Instructions
Cook the pasta in boiling, salted water until al dente.
In a deep pan or pot, fry the finely chopped onion until translucent in heated oil.
Add washed and sliced mushrooms and zucchini.
Season the vegetable mixture, lightly salt it, add the pressed cloves of garlic, and stew it for 5-7 minutes until soft.
Then mix in chopped dried tomatoes and let everything simmer together for another minute.
Strain the cooked pasta, rinse with cold water, and mix it together with cottage cheese, stewed vegetables, and fresh basil.
Share this recipe with a friend:
| | | |
| --- | --- | --- |
| | Preparation time | 30 minutes |
| | Yields | 4 servings |
Nutritional information / 1 serving
Calories
639 Kcal
Carbohydrates
99 g
Fiber
19 g
Proteins
41 g
Fat
10 g
I am a fit food wizard nutritionist and I conjure up these healthy and tasty fitness recipes.
My goal is to show you that eating healthy can be easy-breezy.
Lucia Wagner
Comments