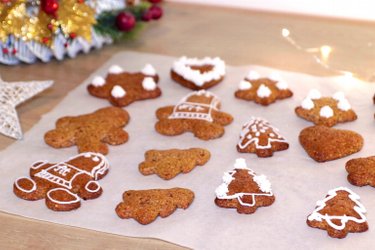 Protein Flourless Gingerbread Cookies
Share this recipe with a friend:
Gingerbread cookies without flour? Yes, it really is possible. Even at Christmas, you can have healthy goodies on the table. Protein flourless gingerbread cookies are obviously full of proteins, they are healthy, easy to prepare, and moreover, they taste divinely good. These protein gingerbread cookies are made of almond flour and protein powder and are irresistibly tender. Come along with me to see for yourself that healthy Christmas baking can really be easy! :)
Gingerbread cookies are definitely an essential part of Christmas. Their preparation alone brings a great joy to many of us. Children in every household are willing to help in the baking process, when an irresistible aroma spreads around the home and you know that Christmas is here again. Hours spent with decorating and the pride of beautifully decorated gingerbread cookies is something that just belongs to this season. And now imagine how surprised will your visitors look at you, after you tell them that these small works of art are additionally fit, gluten-free Christmas cookies, rich in protein. Really magical Christmas, won't you say? Moreover, you can enjoy them without any remorse.
Almond flour is perfect for this recipe. You can buy it, but it can also be easily prepared at home - by simply blending or grinding almonds into fine flour. These fitness gingerbread cookies can be prepared with protein powder, but also without it. Relieve stress from upcoming Holidays and try this fitness version of gingerbread cookies. After all, winter do not have to be about gaining weight at all.
Instructions
Blend together almond flour, protein powder, dates (or raisins), baking powder and gingerbread spice mix in a food processor.
When the mass is solid, add all the remaining ingredients and blend again until a fine dough is formed.
Place the dough between two sheets of parchment paper and roll into desired thickness - the thinner the dough will be, the crunchier gingerbread you get and the thicker it will be, the more tender gingerbread will come out of it.
Place the rolled dough into freezer for 20 minutes or into refrigerator for 2 hours.
Next, cut the cookie shapes from the dough, put them on a baking sheet lined with parchment paper and bake (using protein powder) for 15-20 minutes at 150 degrees Celsius (300 degrees Fahrenheit), or (without protein powder) for 20-25 minutes at 150 degrees Celsius (300 degrees Fahrenheit) until golden.
During baking, be careful not to burn them. If they already start to turn brown, remove them out of the oven.
After they cool down, you can decorate them to your liking.
Share this recipe with a friend:
| | | |
| --- | --- | --- |
| | Preparation time | 40 minutes |
| | Yields | 20 pieces |
Nutritional information /
Calories
120 Kcal
Carbohydrates
7 g
Fiber
1 g
Proteins
7 g
Fat
7 g
I am a fit food wizard nutritionist and I conjure up these healthy and tasty fitness recipes.
My goal is to show you that eating healthy can be easy-breezy.
Lucia Wagner
Comments