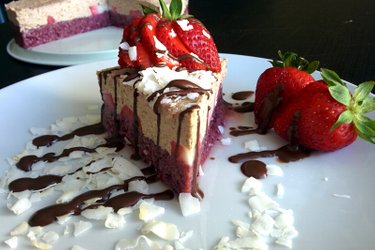 Refreshing Healthy Frozen Fruit Cake
Share this recipe with a friend:
If you ever wanted to have a cake for breakfast, now you can. This refreshing and healthy frozen fruit cake doesn't contain any flour, added sugar or unnecessary harmful substances. It contains only ingredients beneficial for our health. And tastes really irresistibly, at least as great as it looks.
The bottom layer of this fit cake is made of blended fruit mixed with a spoonful of coconut oil. The second layer is prepared by mixing nutritionally more valuable ingredients such as cashew nuts, almonds, dates and coconut. To soften the mixture, use the solid part of coconut milk and a little quark. With its composition (except quark), it can thus remind you of raw cakes, but due to the fact that the cake is frozen, it is not necessary to use so much nuts and oil, and that's why it maintains low fat and low calorie values​​. One piece out of 12 contains only 185 kcal, 13 g of fat and 14 g of carbohydrates, which is not bad at all for such a tasty cake.
In addition, if you want to increase the protein content, you can also add a scoop of protein powder, preferably vanilla or fruit flavored, to the fruit layer.
As this healthy cake is frozen, you will eat it a bit slower than other desserts or cakes, which I consider to be rather an advantage :) You have to try it, the recipe is especially great for hot summer days.
Ingredients
Colored layer:
2 cups frozen fruit (strawberries/blueberries/blackberries/raspberries)
3 ripe bananas
1 Tbsp coconut oil (I recommend this one)
Top layer:
1 cup cashews (I recommend these)
½ cup almonds (I recommend these)
1 banana
½ cup dates/raisins/dried plums (I recommend these)
5 Tbsp solid coconut milk (solid part on the top that is created after keeping coconut milk in the refrigerator overnight) (I recommend this one)
5 Tbsp soft quark/greek yogurt
½ cup shredded coconut
water, as necessary (as little as possible)
Instructions
Let cashews and almonds (if using dates, soak them as well) soak in water overnight.
In a blender, blend all the ingredients for the colored layer until smooth, and then pour this fruit mixture into a pan (e.g. cake pan).
Place in the freezer for 30 minutes to 1 hour.
In the meantime, prepare the top layer.
In a blender, blend all the ingredients for the top layer until smooth.
This mixture will be more difficult to blend, so you can add some water – the less, the better.
When the top of the colored layer is a bit hard, take the pan out of the freezer, top with fruit, and pour the top layer over it.
Place this prepared cake into the freezer overnight.
Store in the refrigerator for 1 hour before serving, so it softens.
You can keep it in the refrigerator for a maximum of half a day, or it will start to melt.
Before serving, you can decorate with strawberries, pour melted dark chocolate over, and sprinkle with shredded coconut.
Share this recipe with a friend:
| | | |
| --- | --- | --- |
| | Preparation time | 20 minutes |
| | Yields | 12 slices |
Nutritional information / 1 slice
Calories
185 Kcal
Carbohydrates
14 g
Fiber
3 g
Proteins
5 g
Fat
13 g
I am a fit food wizard nutritionist and I conjure up these healthy and tasty fitness recipes.
My goal is to show you that eating healthy can be easy-breezy.
Lucia Wagner
Comments