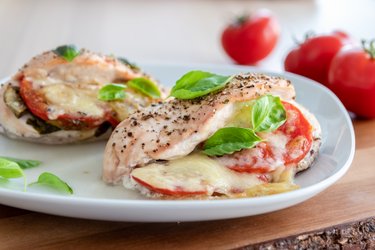 Roasted chicken breasts "Caprese" with tomatoes, basil, and mozzarella
Share this recipe with a friend:
Try this delicious roasted "Caprese" chicken breasts recipe with tomatoes, basil, and mozzarella. Its preparation is extremely simple - just place the ingredients in the chicken meat and put them together in the oven. Within half an hour you have an exceptionally delicious and protein-rich meal at the table. This simple roasted chicken breast recipe is also low-carb, so if you enjoy it together with a simple salad, you don't have to worry about carbs at all, if it's something you watch out for. Plus, I'll reveal how to bake the juiciest chicken breast ;)
Sometimes I feel that you can whip up countless tasty dishes from chicken. No matter how you prepare it, it always turns out great. And this recipe with chicken is no exception. We will prepare it in the Italian Caprese style, so the recipe combines the flavors of tomatoes, fresh mozzarella, and fresh basil leaves - the combination is really excellent and also nutritionally valuable.
How to bake juicy chicken breast?
If you want to bake chicken breasts that are not dry, you will need to follow a few rules. However, it is in fact very simple. Timing is the key. As the chicken breast is a lean type of meat, it must not be baked for too long, otherwise, it will be dry. It is, therefore, essential to bake chicken breast at higher temperatures - so that the meat is baked quickly, but sufficiently. The ideal baking temperature is around 220 degrees celsius. For medium to large chicken breast fillets, this means a baking time of about 20 minutes. If you have a meat thermometer, you should reach an ideal meat temperature of around 73 degrees. If the meat is uneven, you can help yourself and pound the meat in advance (in which case 15 minutes will be enough for baking). After baking, it is good to leave the meat covered, for at least 5 minutes, to let it soak up the juice from the gravy, which will make it even juicier.
I've tried various recipes and tricks, but this worked best for me. And what about you - what is your experience?
Roasted "Caprese" chicken breasts can be served together with any popular side dish - with cold or warm salad, rice, quinoa, couscous, or baked potatoes.
Tip: If you would like to prepare a sauce with this dish, I recommend a healthy tartar sauce, for which you can find the recipe here: .
Ingredients
800g (4 medium pieces) of chicken breasts
200g of fresh mozzarella
handful of fresh basil
2 tomatoes
ground black pepper (to taste)
salt (to taste)
garlic powder (to taste)
balsamic vinegar (optional)
1-2 tbsp of olive oil (I recommend this one)
Instructions
Cut the chicken breast from one side, the other side should remain closed so that the other ingredients do not fall out.
Drizzle olive oil on both sides of the meat and massage the spices and salt into it by hand, according to taste.
Cut tomatoes and mozzarella into thin slices.
Place a few slices of mozzarella and tomatoes in each piece of meat. Add basil leaves as well.
Place the filled chicken breasts into a baking dish.
Bake the meat (can be covered) in a preheated oven for about 20 minutes at 220 degrees celsius until cooked. After baking, let it rest for at least 5 minutes in a covered dish.
In the end, you can add balsamic vinegar and serve it with your favorite side dish.
Share this recipe with a friend:
| | | |
| --- | --- | --- |
| | Preparation time | 35 minutes |
| | Yields | 4 servings |
Nutritional information / 1 serving
Calories
403 Kcal
Carbohydrates
3 g
Fiber
1 g
Proteins
55 g
Fat
16 g
I am a fit food wizard nutritionist and I conjure up these healthy and tasty fitness recipes.
My goal is to show you that eating healthy can be easy-breezy.
Lucia Wagner
Comments