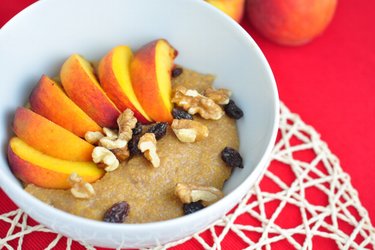 Simple corn porridge with cinnamon and peach
Share this recipe with a friend:
If you want to change up the breakfast oatmeal with something else, try this healthy and simple corn porridge with cinnamon and peach, made from polenta. It will satiate you for a few hours just as well and you will definitely enjoy it. You can prepare it with any milk, whether cow's or vegetable (I recommend any kind of vegetable milk, such as nut, coconut, rice, or oat milk) - it will still taste great. And you only need 5 ingredients for this simple breakfast recipe.
This healthy corn porridge is rich in B vitamins, vitamins A, D, phosphorus, iron, selenium, and magnesium. It is ideal for breakfast, as its preparation is extremely simple and fast, but at the same time, the porridge will satiate you for a longer period of time so you can start your new day full of energy. You only need 5 ingredients, two of them are, of course, the corn porridge and the milk of your choice. The porridge is sweetened with honey, but if you want to reduce carbohydrate content, you can omit the honey or replace it with stevia. Cinnamon peach corn porridge is low calorie and low fat.
Add a bit of cinnamon to the porridge, which will enrich it with a new taste and aroma. This polenta porridge is great with chopped peaches, but you can use any other favorite kind of fruit. Sprinkle some nuts, seeds, raisins, or other dried fruits on top and serve while still warm. Of course, you can create other versions, it's up to your imagination - you will definitely fall in love with corn porridge for breakfast :)
1 cup = 250 ml
Instructions
Combine the polenta in a pot with cinnamon, honey, and milk.
Stirring frequently, bring the porridge to a boil and stir until the desired consistency. If necessary, add more milk.
Pour the cooked porridge into a bowl, add the chopped peach and serve.
You can also sprinkle the porridge with raisins and nuts.
Share this recipe with a friend:
| | | |
| --- | --- | --- |
| | Preparation time | 10 minutes |
| | Yields | 1 serving |
Nutritional information /
Calories
358 Kcal
Carbohydrates
72 g
Fiber
1 g
Proteins
12 g
Fat
2 g
I am a fit food wizard nutritionist and I conjure up these healthy and tasty fitness recipes.
My goal is to show you that eating healthy can be easy-breezy.
Lucia Wagner
Comments
✉️ Send me your favorite recipe.
Do you like to cook healthy and want to publish your favorite recipe on Fit Food Wizard?
Email
it to me and I will be happy to try it and publish it.