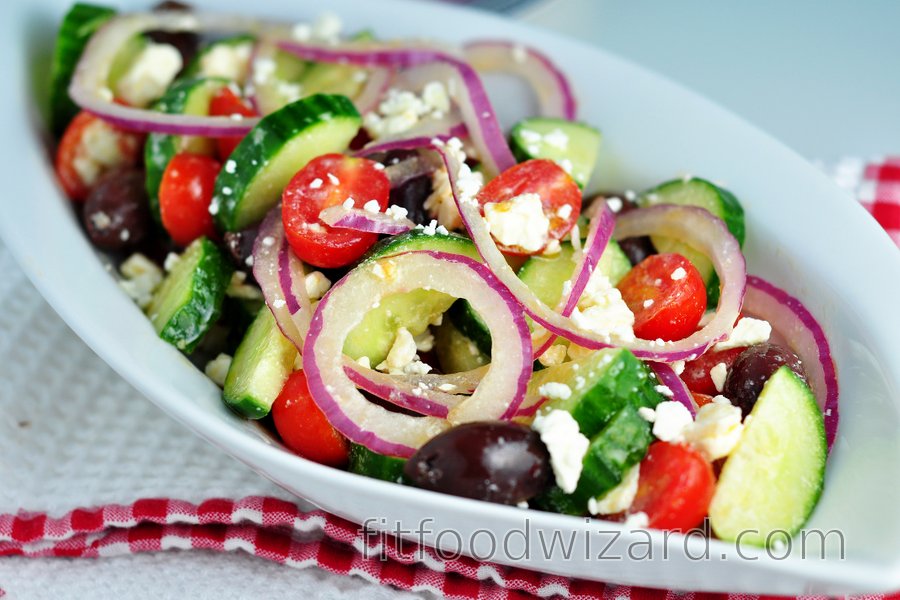 The perfect taste of Greek salad lies in its simplicity and a combination of quality ingredients. Treat yourself to this simple Greek salad recipe as a light dinner or serve it as a side dish to meaty meals or whole wheat bread. Greek salad is one of the most popular salads ever. At the same time, it is so easy to prepare, without added sauces, only using olive oil, and wine vinegar.
A combination of tomatoes, cucumbers, olives, onions, and especially feta cheese topped with olive oil and wine vinegar - this is the taste of the real Greek salad, perfect for hot summer days. Tomatoes and cucumbers contain a lot of water, so this salad will come in handy especially during the summer. Salty feta cheese and olives give it its distinctive taste, so all you have to do is season it gently and add olive oil and wine vinegar. And a perfect, healthy salad is born.
I love this recipe for a simple Greek salad because it is healthy, ready in a few minutes, tastes great and goes well with almost anything. You can serve it on its own, as a side dish to any meat, or with whole wheat bread or pita for breakfast. Quickly prepare this delicious crunchy salad full of vitamins and minerals. Bon appetite!
Ingredients
200g of cherry tomatoes
1 salad cucumber
70g of feta cheese
70g of Kalamata olives
1/2 of red onion
1-2 tbsp of extra virgin olive oil (I recommend this one)
1 tsp of wine vinegar
ground black pepper
Instructions
Clean and cut the vegetables, onions, and olives, and put them in one bowl.
Add olive oil, wine vinegar, freshly ground black pepper, feta cheese, and mix the salad properly.
The salad can be served on its own, as a side dish with meat meals, or as a side dish to whole wheat bread.
| | | |
| --- | --- | --- |
| | Preparation time | 10 minutes |
| | Yields | 2 servings |
Nutritional information/ 1 serving
Calories
180 Kcal
Carbohydrates
8 g
Fiber
3 g
Proteins
7 g
Fat
13 g