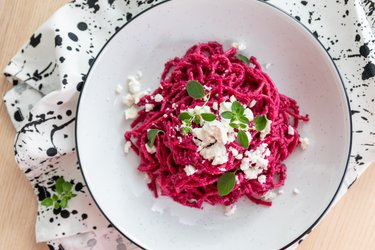 Simple pasta with beetroot pesto
Share this recipe with a friend:
You have to try this delicious and simple whole grain pasta with beetroot pesto! Not only is this meal irresistibly tasty but it also is a feast for the eyes. You can prepare this pasta recipe with either goat or sheep cheese and your taste buds will explode with flavor.
Beetroot pesto is so easy to prepare, all you have to do is blend it smoothly, and that's it. The longest part of the recipe is actually just waiting for the beets to cook until soft. Beetroot pesto is super easy. In addition, its preparation does not require as much added oil or other fat, compared to traditional pesto. As a result, beetroot pesto has less fat and fewer calories. If you would like to save time when preparing this recipe, you can buy a pre-cooked beetroot - I saw it in larger supermarkets.
I used whole grain spaghetti in this recipe, but you can choose any other pasta, for celiacs I recommend buckwheat, for example. And if you would like to change up this recipe next time you are preparing it, you can add chicken, tuna, salmon, or tofu as an addition to the pasta.
Be sure to prepare this simple pasta with beetroot pesto, I'm convinced you will impress not only yourself but also all the food lovers around you :)
Ingredients
500g of wholegrain pasta (e.g. spaghetti) (I recommend this one)
2 medium beetroots
1 smaller handful of fresh basil leaves
1-2 tbsp of olive oil (I recommend this one)
100g of goat (or sheep) cheese
50g of walnuts (or pine nuts) (I recommend these)
juice of 1/2 lemon
2 cloves of garlic
salt, ground black pepper (to taste)
Instructions
Place the beetroots (unpeeled) in a pot with boiling water and cook them until soft for 40-60 minutes, depending on their size.
Cook the pasta in boiling, salted water until soft and drain it afterwards.
Clean the cooked beets and cut them into smaller pieces.
In a chopper (I recommend this one) or other blender, blend the beets until smooth together with garlic, lemon juice, nuts, olive oil, basil leaves, salt, and spices.
Mix the finished pesto with the cooked pasta.
Goat cheese can be sprinkled either at the top of the pasta or mixed into it so that it melts, making the pasta even creamier.
Share this recipe with a friend:
| | | |
| --- | --- | --- |
| | Preparation time | 70 minutes |
| | Yields | 4 servings |
Nutritional information /
Calories
678 Kcal
Carbohydrates
86 g
Fiber
12 g
Proteins
26 g
Fat
21 g
I am a fit food wizard nutritionist and I conjure up these healthy and tasty fitness recipes.
My goal is to show you that eating healthy can be easy-breezy.
Lucia Wagner
Comments
✉️ Send me your favorite recipe.
Do you like to cook healthy and want to publish your favorite recipe on Fit Food Wizard?
Email
it to me and I will be happy to try it and publish it.