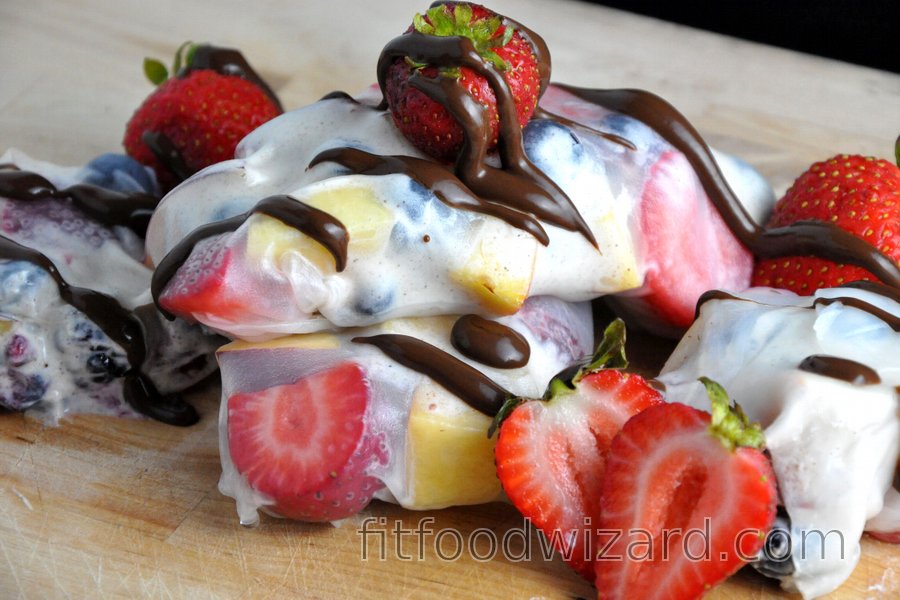 These tasty spring fruit rolls can be a great breakfast, appetizer or healthy and refreshing dessert during summer and summer barbecues or picnics. They are easy to prepare, contain a lot of vitamins and a minimum of fat.
There are several types of spring rolls, these are called Vietnamese, because they are not fried, but are consumed fresh. Thus no complicated preparations are waiting for you. Typically, they are prepared in savory way, but this is a small, interesting variation in sweet form. Rice paper keeps the fruit together and has a neutral taste. I recommend to serve the rolls with this perfect cinnamon-yogurt sauce. And of course, you also can prepare these small, colorful delicacies with other fruits, according to your preferences - perfect would be mango, kiwi, orange or sliced apples.
What actually is that rice paper?
Rice paper is made of rice flour, so it doesn't contain any gluten. It's very delicate, doesn't affect food taste, and melts on the tongue while eating. It's used in many meals, sushi, rolls, and in desserts as well. You can find it in bigger supermarkets, Asian groceries, or healthy food stores.
Ingredients
100g (3.5oz) strawberries
100g (3.5oz) wild fruit mixture
1 peach
4 Tbsp white yogurt
1 Tbsp honey (I recommend this one)
1 tsp. cinnamon
4 rice papers
Instructions
Chop fruit into pieces and put aside.
For the sauce, blend together yogurt, sweetener and cinnamon, and then mix with fruit.
Immerse each rice paper separately in lukewarm water for 10 seconds.
Spread the softened rice paper on a plate or napkin, fill each paper with fruit, dressing, and then roll it.
| | | |
| --- | --- | --- |
| | Preparation time | 10 minutes |
| | Yields | 4 servings |
Nutritional information/ 1 serving
Calories
230 Kcal
Carbohydrates
50 g
Fiber
2 g
Proteins
4 g
Fat
0 g