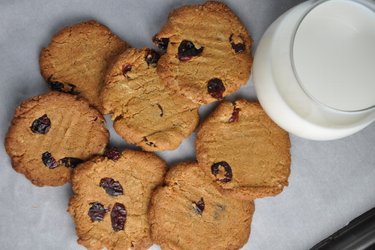 The Best Healthy Crunchy Chickpea Cookies (Gluten-Free)
Share this recipe with a friend:
The recipe name says it all – these cookies are really the best healthy cookies with crunchy edges and soft insides you've ever tried. In comparison to other cookies, they contain fewer carbohydrates and more protein, fiber, and other healthy nutrients.
The irresistible crunchiness in these fit cookies is ensured by using coconut oil in the right amount. If you do not want to use honey or cane sugar in the recipe, replace them with low calorie xylitol or stevia.
If you don't have chickpea flour at home by now, definitely get it, at least because of this great recipe. But you can also conjure other healthy creations from this flour - there are many healthy recipes with chickpea flour on my website, including homemade gluten-free pasta, italian socca, amazing pancakes, carrot pastry and also tasty gluten-free gnocchi. If you have a good blender, you can also prepare it at home, or you can buy it in big supermarkets or online.
Make sure to try these healthy chickpea cookies free from gluten, milk and eggs, I believe you will fall in love with them at least as we did. I like to add dried cranberries and dark chocolate chips into these cookies. Yummy. However, these optional ingredients are not included in nutritional values.
Instructions
In a bowl, mix dry ingredients first and then fold in the remaining ingredients.
The dough should be very dense but if you can't mix it thoroughly, add a few spoonfuls of water.
Shape prepared dough into cookies and place onto a sheet lined with parchment paper.
Press cookies with your fingers so that they're thinner.
Bake cookies at 175 degrees (345 °F) for 15 minutes until golden.
After taking them out, press them immediately with a fork – for irresistibly crunchy edges and a soft inside.
Share this recipe with a friend:
| | | |
| --- | --- | --- |
| | Preparation time | 20 minutes |
| | Yields | 14 servings |
Nutritional information /
Calories
105 Kcal
Carbohydrates
14 g
Fiber
2 g
Proteins
3 g
Fat
4 g
I am a fit food wizard nutritionist and I conjure up these healthy and tasty fitness recipes.
My goal is to show you that eating healthy can be easy-breezy.
Lucia Wagner
Comments
✉️ Send me your favorite recipe.
Do you like to cook healthy and want to publish your favorite recipe on Fit Food Wizard?
Email
it to me and I will be happy to try it and publish it.