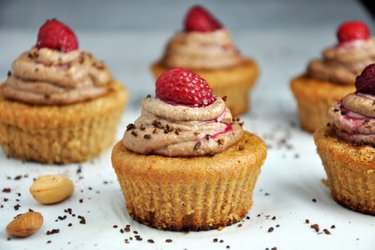 Almond Cupcakes with Coffee-Cashew Cream (Gluten-Free)
Share this recipe with a friend:
So these healthy almond cupcakes with coffee-cashew cream are clearly my weakness. It's good they only contain healthy ingredients, no flour and are honey-sweetened. I don't even know, what do I like the most about them - either the fluffy almond base or the delicious coffee cream, apparently a combination of both.
Almond cupcakes are completely flourless and gluten-free, the main role in the dough plays the almond flour (prepared by mixing or grinding almonds), followed by eggs, honey, nut butter, milk, baking powder and cinnamon. If you want to cook the basis in cocoa version, you can add cocoa into the dough. Again, it is quite easy to prepare coffee-cashew cream, just mix the soaked cashew nuts with a little bit of ground coffee beans, yogurt, honey and cocoa. Yummy, I cannot wait to do this healthy dessert again.
Try to prepare these fit cupcakes just for yourself or for family parties, I'm sure you will impress with them. I recommend this recipe eagerly. And if you are not, by chance, a fan of cupcakes or you are lazy to decorate them (I don't judge), you can easily prepare gluten-free healthy almond muffins from the dough and serve them as they are.
Instructions
In a bowl, mix ground (or blended) almonds with baking powder, cinnamon, and cocoa (for cocoa cupcakes).
Then, add remaining cupcake ingredients and stir dough thoroughly so that there are no lumps.
Spoon dough into silicone muffin cups- you should have 6 big or 12 small cupcakes.
Bake at 175 degrees Celsius (345 °F) for 17 to 25 minutes until golden.
After baking, leave to cool completely and then unmold and decorate.
Soak cashews in water for 30 to 60 minutes.
Next, rinse and blend together with remaining ingredients in the blender until you have a smooth cream.
Using a piping bag or plastic bag, decorate baked cupcakes with cream.
After, you can decorate with raspberries and sprinkle with coffee.
Share this recipe with a friend:
| | | |
| --- | --- | --- |
| | Preparation time | 35 minutes |
| | Yields | 6 servings |
Nutritional information /
Calories
211 Kcal
Carbohydrates
22 g
Fiber
2 g
Proteins
6 g
Fat
11 g
I am a fit food wizard nutritionist and I conjure up these healthy and tasty fitness recipes.
My goal is to show you that eating healthy can be easy-breezy.
Lucia Wagner
Comments