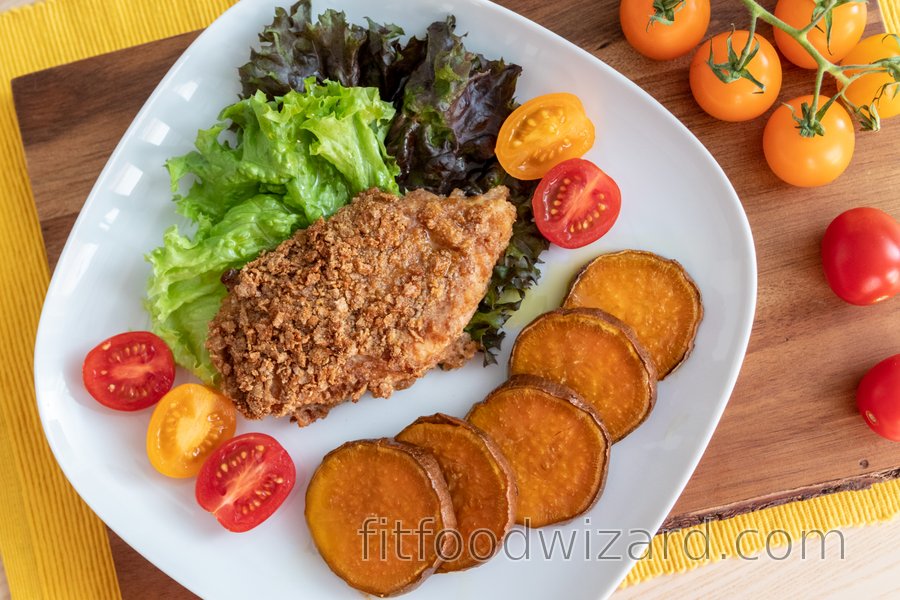 Baked fitness schnitzel with sweet potatoes
Tasty chicken schnitzel without frying does not have to be a science. In this simple recipe for baked fitness schnitzel with sweet potatoes, I will show you how to do it. Delicious and juicy chicken schnitzel will be served together with baked sweet potatoes and salad. The combination is incredibly tasty, so I'm sure you'll love it and even your skeptical man at home will give in ;)
The idea behind ​​the recipe is simple - to create tasty schnitzel that will not be heavy on your stomach and for which you will not have to spend an hour at the stove at the same time. Success! In this dish, you will find high amounts of protein, healthy carbs, and lower fat content.
I enjoyed the combination with sweet potatoes, but if you don't like them, you can replace them with your favorite side dish, or indulge in this perfect meal only with a side of refreshing salad. In this case, you will create an even more diet-friendly meal, with a lower carb content. Parmesan cheese will give the schnitzel a specific delicate taste and cornflakes (or bran flakes) will make it subtly crunchy.
Try this baked fitness chicken schnitzel with sweet potatoes this weekend, it's a wonderful and healthy recipe for the whole family.
Ingredients
800g of chicken breasts
1kg of sweet potatoes
100g of cornflakes (or bran flakes)
4 tbsp of grated Parmesan cheese
2 eggs
1 tbsp of olive oil (I recommend this one)
1/2 tsp of salt
1/2 tsp of ground black pepper
Instructions
Wash sweet potatoes, cut off the ends, and cut them into wheels.
Place them on a baking sheet lined with baking paper and drizzle with olive oil.
In one bowl, using a fork beat the eggs for breading.
In a second, larger bowl, mix finely crushed cornflakes with parmesan, salt, and pepper.
Cut chicken breasts into thinner cuts (you don't have to pound them).
Wrap each chicken cutlet in eggs and then cover it in the prepared mixture for breading.
Place the wrapped chicken slices on a baking sheet lined with baking paper. If they fit, then lay them next to the potatoes, if they don't fit, place them on the second baking sheet (you can bake them together or separately).
Bake sweet potatoes and chicken schnitzels for about 25 minutes at 180 degrees. Sweet potatoes must be soft and chicken breast schnitzels must be baked to a golden brown.
Serve the meal ideally with lettuce, tomatoes, or other favorite vegetable.
| | | |
| --- | --- | --- |
| | Preparation time | 45 minutes |
| | Yields | 4 servings |
Nutritional information/ 1 serving
Calories
612 Kcal
Carbohydrates
64 g
Fiber
8 g
Proteins
56 g
Fat
10 g