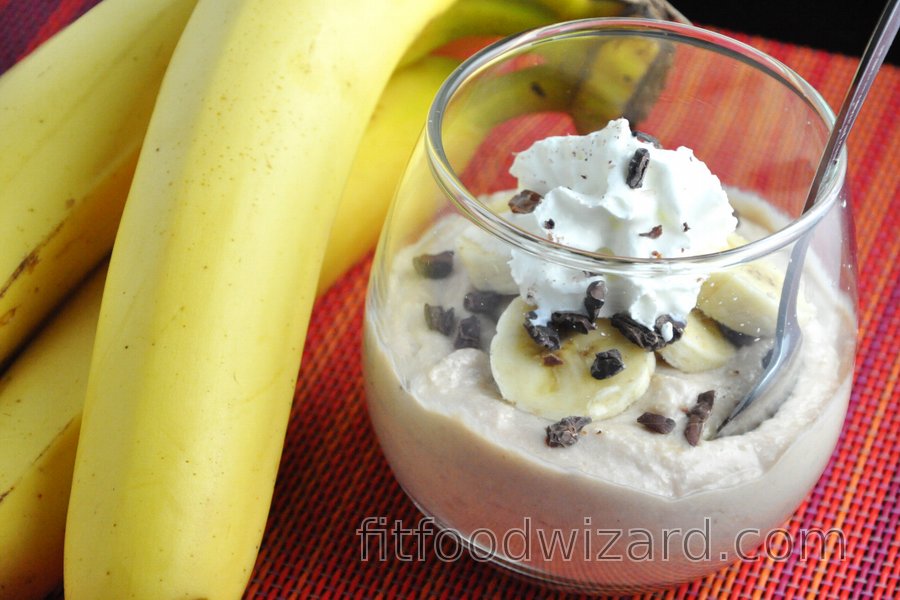 This creamy banana tofu pudding doesn't contain any flour, starch, or milk, yet it is still perfectly delicious. To prepare it, you only need a few ingredients and you can serve it within 5 minutes.
The recipe for a healthy banana tofu pudding arose totally by accident when I wanted to conjure up something sweet and tasty from tofu and I had ripe bananas at home. As this banana pudding is free of flour, gluten and milk, it is suitable for both celiacs and vegans. I've only sweetened it with a little bit of stevia, because bananas are sweet enough, which also helped it with its low calorie content. However, if you don't have stevia, you can even sweeten it using honey or maple syrup.
Vanilla flavor is nicely complemented by the banana flavor and, in addition, ensures that the taste of tofu in this pudding is completely extinguished. To prepare cocoa pudding, just add a few spoons of cocoa. 1 small serving of this pudding contains only 84 kcal and 12 g of carbohydrates, so if you will like it much, you can peacefully eat two servings in one sitting.
If you want tofu pudding to contain more protein and take it to the fitness level, you can also add a scoop of protein powder (you can also use vegan protein to preserve this recipe gluten-free and dairy-free).
Instructions
Blend all ingredients together in a blender.
Taste pudding and if you want it sweeter, or there's still a tofu taste, add sweetener (stevia, agave, maple syrup or honey).
Store pudding in the refrigerator and eat within 3 days.
| | | |
| --- | --- | --- |
| | Preparation time | 5 minutes |
| | Yields | 4 servings |
Nutritional information/ 1 serving
Calories
84 Kcal
Carbohydrates
12 g
Fiber
2 g
Proteins
5 g
Fat
2 g