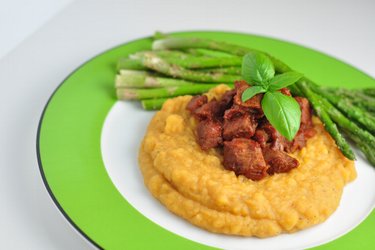 Beef with split pea mash and asparagus
Share this recipe with a friend:
Tasty and healthy lunch or dinner - beef with split pea mash and asparagus. The ingredients in this recipe complement each other perfectly in taste and the nutrients ​​in the food are well-balanced. Asparagus and peas give this fit meal the right dose of fiber, protein, vitamins, and minerals and, in addition to their great taste, they are also very satiating.
Prepare this tasty, colorful, and healthy lunch or dinner. The preparation is very simple and the taste is well worth it. Properly seasoned beef with tomato puree perfectly complements the taste of the pea mash. This food misses only one thing - crunchy, green, roasted asparagus with rich flavor :)
This recipe for beef with pea mash and asparagus does not contain any milk, eggs, nuts, or gluten and it is also rich in fiber. It is therefore perfect for anyone suffering from food allergies. With its high protein content and favorable nutritional values, it is suitable also for any healthy food fan. If you are running out of ideas for healthy lunches or dinners with meat, try this dish, you will definitely not regret it.
Ingredients
400g of beef loin
200g of a yellow split peas
400g of green asparagus
4 tbsp of tomato puree
2 tbsp of soy sauce (I recommend this one)
100ml of water
1 onion
1 tsp of coconut oil (I recommend this one)
1 tsp of garlic powder
1/2 tsp of paprika
pinch of ground black pepper
sea salt
Instructions
Rinse the peas, put them in a pot, and cover them with twice the amount of water.
Lightly salt the peas, cover the pot with a lid, and cook them for 40-60 minutes until completely softened to a pudding consistency. Stir around the peas from time to time to avoid burning them.
In a second pot, cook the finely chopped onion in a teaspoon of oil.
Add diced beef, stir and add in the tomato puree, 100ml of water, soy sauce, salt, garlic powder, paprika and a pinch of ground black pepper.
Stew the covered meat for 30-40 minutes with occasional stirring. If necessary, add more water.
Bake the asparagus while the peas and the meat are cooking. Wash it and put it in a baking dish.
Lightly season the asparagus with salt and ground black pepper and bake for 15 minutes at 180 °C.
Share this recipe with a friend:
| | | |
| --- | --- | --- |
| | Preparation time | 70 minutes |
| | Yields | 4 servings |
Nutritional information / 1 serving
Calories
470 Kcal
Carbohydrates
19 g
Fiber
11 g
Proteins
40 g
Fat
20 g
I am a fit food wizard nutritionist and I conjure up these healthy and tasty fitness recipes.
My goal is to show you that eating healthy can be easy-breezy.
Lucia Wagner
Comments
✉️ Send me your favorite recipe.
Do you like to cook healthy and want to publish your favorite recipe on Fit Food Wizard?
Email
it to me and I will be happy to try it and publish it.