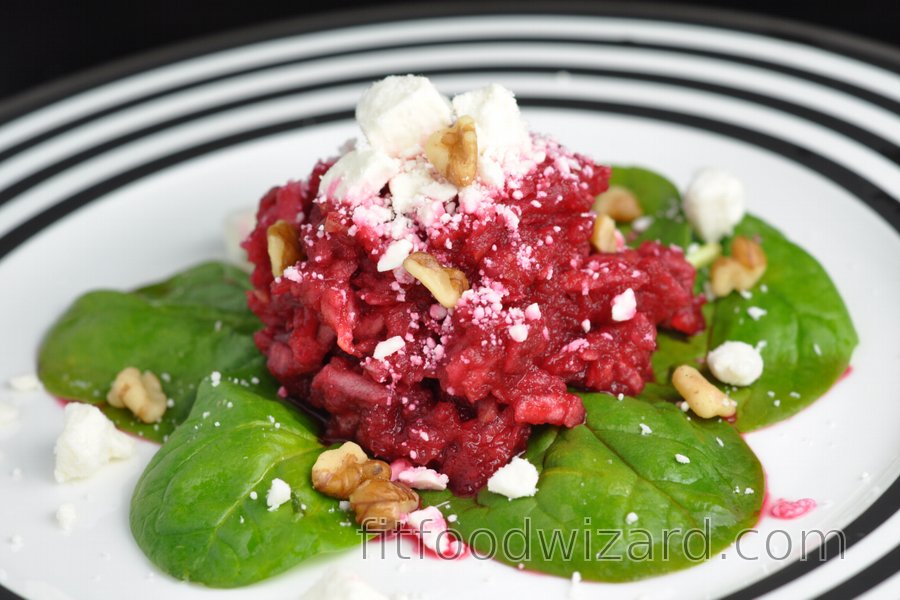 Beetroot, Apple and Feta Salad
A very tasty salad full of vitamins, made from beetroot, apples and horseradish, complemented with feta cheese and crispy nuts. This healthy beetroot, apple and feta salad is definitely worth a try, whether as a light dinner or as a side dish to meat meals.
I recommend to prepare simple beetroot, apple salad with feta, for example, during Christmas or Easter, when it is mightily suitable not only as a healthy appetizer, but also as a healthy side dish, especially for dishes with meat. You can, for example, serve this healthy salad on spinach leaves. Don't forget to boil the beetroot in water unpeeled, so it retains more nutrients.
The beetroot salad is full of vitamins, minerals and also proteins and healthy fats, and thus even a smaller serving of the salad will be able to fill you up very well. In addition, all sports enthusiasts should sit up, as it has been proved that beetroot helps to improve sport performance and also lower the blood pressure. Thanks to the higher fiber content, the salad also promotes digestion.
Be sure to try this healthy beetroot and apple salad out, I'm sure you will love the combination of beetroot and apples with feta cheese and crunchy nuts. It tastes the best when all of its flavors are connected after being refrigerated.
Ingredients
2 apples
2 beetroots
2-3 Tbsp horseradish (freshly grated or sterilized)
50 g (1.8 oz) walnuts (I recommend these)
100 g (3.5 oz) feta cheese
handful of baby spinach
Instructions
Cook unpeeled beetroot in boiling water (for about 15 minutes).
When it's cooled down, peel and blend it into puree.
Grate apples coarsely and add them to the beetroot puree.
Add 2-3 tablespoons of grated or sterilized horseradish, chopped walnuts and finely crumbled feta cheese.
Combine well and refrigerate the salad for couple of hours.
Serve the salad with fresh baby spinach.
| | | |
| --- | --- | --- |
| | Preparation time | 25 minutes |
| | Yields | 4 servings |
Nutritional information/ 1 serving
Calories
182 Kcal
Carbohydrates
13 g
Fiber
4 g
Proteins
7 g
Fat
11 g