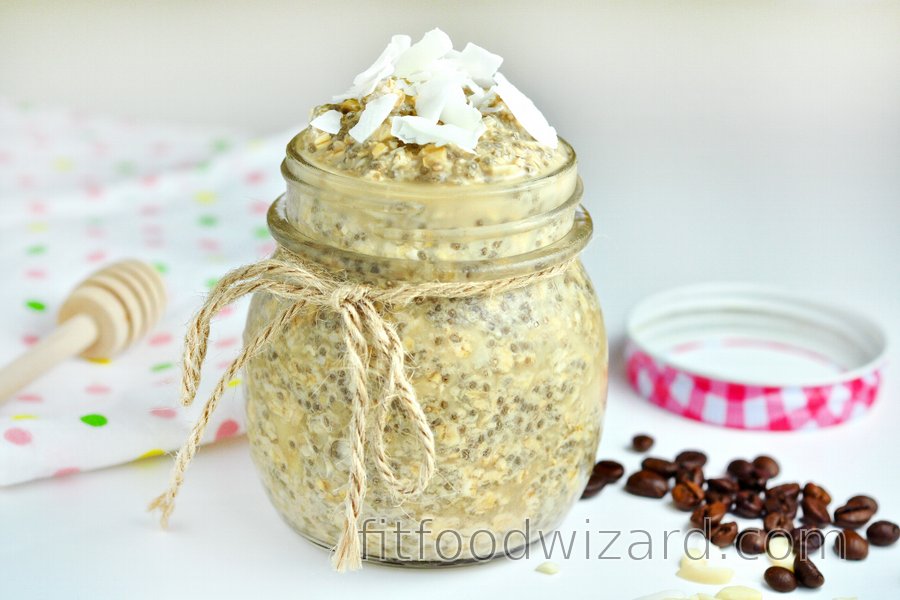 Coconut Latte Chia Pudding Recipe
The combination of coconut, coffee and milk is unreal! Check out this fantastic and healthy coconut latte chia pudding recipe - you can enjoy it as breakfast or even as a healthy dessert. Another unique chia seed pudding recipe that will delight your taste buds. Because of its refreshing taste, it is especially suitable for hot summer days, but if you love coffee and coconut, you will appreciate it at any time of the year and day :)
Chia puddings are nutritious, rich in omega 3 and 6 fatty acids and mostly, super healthy. Chia seeds swell in the liquid and increase their volume up to 12 times, making it easy to create such a tasty pudding. Oats enrich this recipe with fiber and complex carbohydrates, and also, the chia pudding will fill you up much better thanks to them. There is no need to describe the amazing benefits of coconut. It is particularly rich in healthy fats, but also in a number of minerals and omega fatty acids. The combination of oats, coconut and chia seeds is excellent, even from a nutritional standpoint.
Any milk can be used in the chia seed pudding recipe, but I recommend using coconut milk for a bolder overall coconut flavor. However, coffee is an inseparable ingredient in this healthy coconut latte chia pudding recipe. It gives the whole chia pudding an irresistible flavor and will kick-start you into a new day. This coconut-coffee chia pudding recipe will become one of your favorites, for sure.
Instructions
Firstly, combine coconut, oats and chia seeds in a bowl.
Then add milk, cooled coffee, honey and stir the mixture thoroughly.
Divide the pudding into two sealed containers and place it into the refrigerator for at least 4 hours.
| | | |
| --- | --- | --- |
| | Preparation time | 5 minutes |
| | Yields | 2 servings |
Nutritional information/ 1 serving
Calories
285 Kcal
Carbohydrates
36 g
Fiber
8 g
Proteins
6 g
Fat
13 g