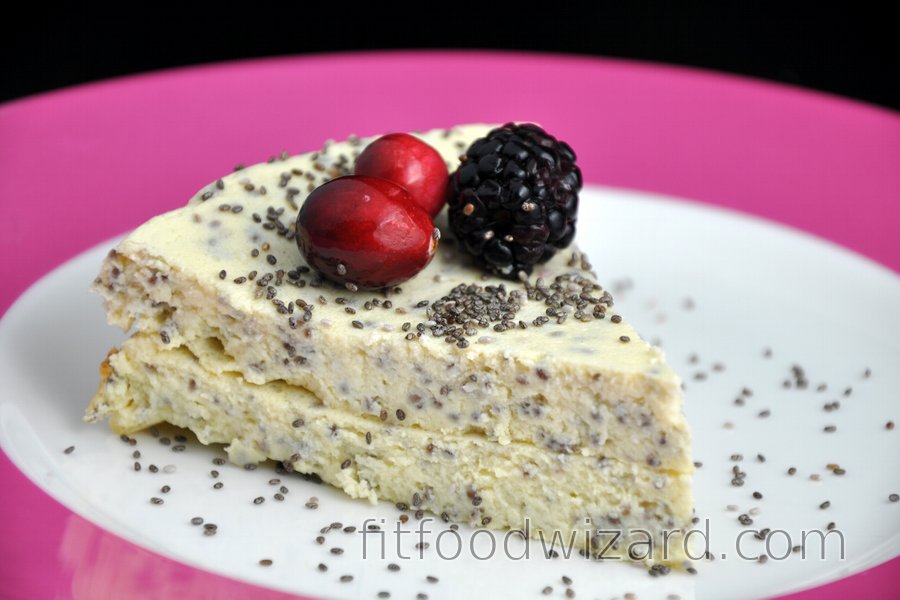 Cottage Cheese Cake with Poppy or Chia Seeds (Gluten-Free)
Delicious, juicy, and refreshing - this healthy cottage cheese cake can be prepared with either poppy seeds or chia seeds – it's up to your taste preferences and what ingredients you have at home. Check out how playfully can cottage cheese be used also in sweet recipes.
Thanks to the cottage cheese and Greek yogurt, this cake is rich in protein. Using poppy or chia seeds, you can smuggle a good dose of iron, calcium, and magnesium into this cake, and thanks to chia seeds, also omega-3 fatty acids. The cake will please with the high content of fiber, protein, and healthy fat from the seeds. Cottage cheese cake is flourless, just use a little oats or coconut flour made of coconut pulp, to ensure the accurate consistency. It is sweetened with honey, but if you want to reach low carbohydrate and sugar amounts, you can use stevia or xylitol instead.
This healthy cottage cheese cake is completely easy and quick to prepare, just blend all the ingredients together and bake it until golden.
Enjoy this fitness cottage cheese cake with poppy or chia seeds, for example, poured with fruit icing. Yummy!
Instructions
In a blender, blend together cottage cheese, yogurt, eggs, oats, and honey until you have a smooth dough.
Then, fold in ground poppy seeds or chia seeds.
Pour batter into a small silicone pan or a pan lined with parchment paper, and bake at 180 degrees Celsius (350 °F) for 30 minutes until the edges and the top turn golden.
You can serve the cake right after cooling, but for the best taste, eat it after it's been in the refrigerator for at least 5 hours.
You can also decorate with fruit sauce (cooked fruit) or nuts.
| | | |
| --- | --- | --- |
| | Preparation time | 35 minutes |
| | Yields | 6 slices |
Nutritional information/ 1 slice
Calories
176 Kcal
Carbohydrates
12 g
Fiber
8 g
Proteins
12 g
Fat
12 g