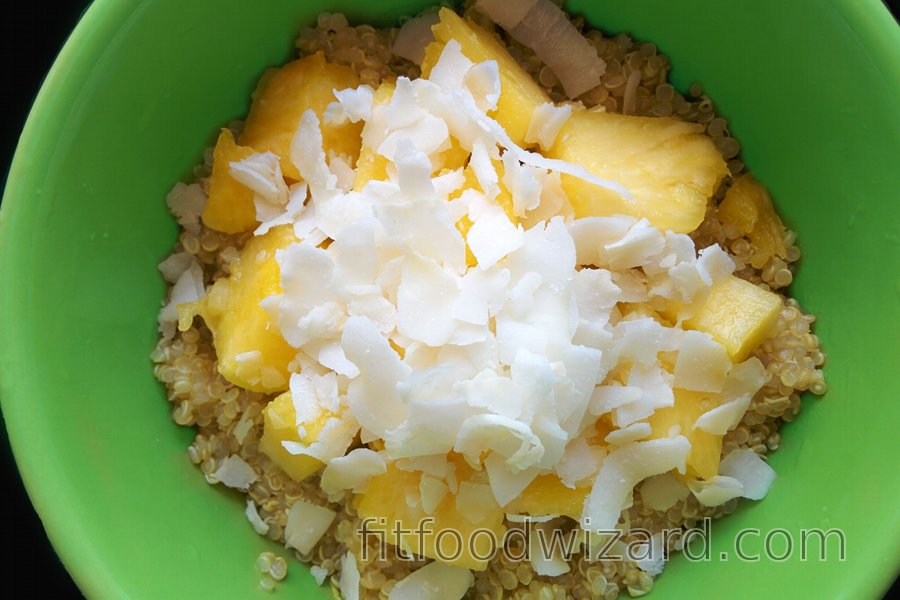 Exotic Coconut-Pineapple Quinoa
Excellent and especially healthy and nutritious breakfast or morning snack in exotic way. I literally love quinoa in this combination. It's an extremely easy recipe that I recommend, especially if you haven't tried quinoa yet, and if you want to try something new. I hope that this exotic quinoa with pineapple and coconut will bring up a smile on your face in the morning :)
One serving contains a pleasant 343 kcal, and I'm sure that it will fill you up, also thanks to the content of healthy fats and the higher protein and fiber content.
Quinoa is currently one of the most popular superfoods on the market and an interest in quinoa still grows. Some of the reasons are these advantages:
it doesn't contain gluten, so it's suitable for people with a gluten-free diet
it's full of nutrients; even a small amount of quinoa fills you up
it's a rich source of fiber, protein (12-22%), essential fatty acids, vitamins, and minerals (beta-carotene, vitamin C, E, folic acid, thiamin, riboflavin, calcium, iron, potassium, zinc, magnesium)
its regular consumption lowers the risk of heart attack, obesity, and type 2 diabetes; it also lowers blood pressure and cholesterol
You can use coconut milk from the box or from the can (in the latter case, the porridge will be more creamy and more rich in fats).
Instructions
Cook quinoa as instructed – pour ½ cup of water over ¼ cup of quinoa and cook for about 10 minutes, or until the water is absorbed.
When ready, place quinoa into a bowl and add coconut milk and honey.
If you don't want to sweeten the quinoa, you don't have to, it's up to your taste.
At the end, add cut pineapple (preferably fresh) and sprinkle with shredded coconut.
| | | |
| --- | --- | --- |
| | Preparation time | 15 minutes |
| | Yields | 1 serving |
Nutritional information/ 1 serving
Calories
343 Kcal
Carbohydrates
55 g
Fiber
5 g
Proteins
8 g
Fat
12 g