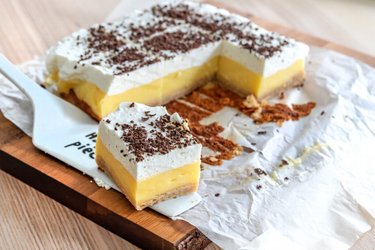 Fit Cream Cake
Share this recipe with a friend:
Why is this cream cake fit? Because it is more nutritionally valuable compared to its classic version, it contains much less calories, fat, carbohydrates, and on the other hand, more protein. Try it out for sure, it's absolutely delicious! Everyone who has ever tried this fit cream cake (krémes) loved it and I cannot wait to make it again.
Who wouldn't love the delicate taste of a creamy cake? Especially the homemade one. If you like to treat yourself with delicious cakes and desserts, but especially in a healthy version, this will be the perfect recipe for you. I have already tried a lot of cream cake recipes, but I enjoyed this healthy cream cake in fitness version the most so far. You won't find any puff pastry, heavy cream or refined sugar in this cake, but don't worry - it tastes absolutely fantastic even without them. In addition, the recipe is so easy, that anyone can prepare it.
1 slice of this fit cream cake contains only 138 kcal and 1g of fat. However, I promise you that these, almost unbelievable nutritional values ​​for a cream cake, do not interfere in its sinfully good taste. You can reduce the amount of carbohydrates even more by using xylitol or stevia for sweetening, instead of honey. And in case the cake happens to be too firm after being taken out from refrigerator, let it warm up for a few minutes at the room temperature.
Healthy homemade cream cake is not difficult to prepare and it does not even have to be an enemy of a slim figure either. See for yourself :)
Instructions
Mix all ingredients for the dough together thoroughly.
Press the prepared dough to the bottom of a cake pan (with size about 25x25 cm (10x10 in)) lined with parchment paper.
Bake the dough for 25 minutes at 180 degrees Celsius (356 degrees Fahrenheit).
In the meantime, prepare the pudding. In a pot, mix the pudding powder with milk and sweetener of your choice.
Bring the pudding to a boil and stir until it thickens.
Pour the pudding over the baked dough and place the cake into the refrigerator.
In a bowl, combine quark with yogurt and sweetener.
Dissolve the gelatin in hot water and then add a tablespoon of the quark cream into the dissolved gelatin.
Mix it together thoroughly and then stir the gelatin mixture into the entire cream.
When the top of the pudding layer is firm enough, spread the prepared quark cream on the top of the cake.
Place the cream cake into the refrigerator for at least 4 hours and then sprinkle it with some shredded dark chocolate before serving.
Share this recipe with a friend:
| | | |
| --- | --- | --- |
| | Preparation time | 45 minutes |
| | Yields | 12 slices |
Nutritional information / 1 slice
Calories
138 Kcal
Carbohydrates
24 g
Fiber
2 g
Proteins
9 g
Fat
1 g
I am a fit food wizard nutritionist and I conjure up these healthy and tasty fitness recipes.
My goal is to show you that eating healthy can be easy-breezy.
Lucia Wagner
Comments