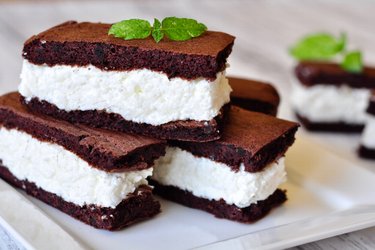 Fit milk slices without flour and sugar
Share this recipe with a friend:
Who wouldn't love tasty milk slices that combine a soft cocoa sponge cake with a delicious and fresh milk filling? Now you can enjoy a healthy and fit version of this yummy treat! These fitness milk slices are completely without flour and without sugar (with the help of stevia or xylitol), so they are a protein bomb with a low content of carbohydrates and calories. They are a great, sweet refreshing addition to any diet, even focused on weight loss.
Homemade fit milk slices are so easy to prepare. And if you wonder whether you pay for their favorable nutritional values ​​with their taste, I have to put you in perspective - they are absolutely delicious and at the same time diet-friendly - yes, it is really possible (see the other fit recipes on my website). I definitely rank these milk slices in my TOP 10 favorites among healthy desserts and I believe that I am not alone.
These healthy milk slices are deliciously creamy, soft and their pleasant taste will get you. They are a temptation not only for the taste buds but also for the eyes. You just have to try this low-calorie dessert with a high protein content. If you would like to prepare their coconut version, you can mix some shredded coconut into the cream. If you start preparing them, I recommend making a double dose straight away, because you won't even notice how these 8 servings will disappear ;)
Instructions
First, whip the egg whites with stevia into a stiff foam. If you want to use another sweetener, add it after whipping.
In a bowl, mix the egg yolks with cocoa powder and starch.
Then gently stir in the whipped egg whites with the sweetener into the dough.
Pour the resulting batter into a smaller baking sheet lined with baking paper.
Bake the sponge for 12 to 15 minutes at 180 degrees C.
In the meantime, prepare the filling by mixing soft quark with 2 tablespoons of sweetener (or stevia equivalent) and gelatin dissolved in warm water.
Cut the baked and cooled sponge lengthwise in half and spread the filling on one part.
Place the second part of the sponge on top of the filling, press gently, and let the cake set in the fridge for at least 30 minutes.
Cut the cake into 8 slices.
Share this recipe with a friend:
| | | |
| --- | --- | --- |
| | Preparation time | 25 minutes |
| | Yields | 8 slices |
Nutritional information /
Calories
109 Kcal
Carbohydrates
5 g
Fiber
1 g
Proteins
12 g
Fat
4 g
I am a fit food wizard nutritionist and I conjure up these healthy and tasty fitness recipes.
My goal is to show you that eating healthy can be easy-breezy.
Lucia Wagner
Comments