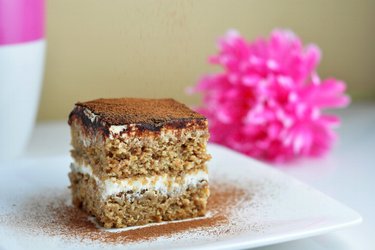 Fit Tiramisu recipe
Share this recipe with a friend:
Healthy-ish fit Tiramisu with a lower calorie and fat content with an excellent home-made sponge cake made of oat and almond flour. The taste is amazing and you definitely won't have any remorse afterwards!
I don't know anyone who doesn't like tiramisu. I absolutely love it myself and I could eat a whole baking sheet of this dessert in one sitting... although this is probably nothing to brag about :) However, this is what made me come up with a recipe for diet and healthy tiramisu, which is nutrient-dense and I can safely have a larger piece of it.
This fitness tiramisu is flourless and you won't find any high-fat mascarpone in it, which is commonly used in this tasty Italian dessert. Nevertheless, the taste remains delicious and sinfully good. I replaced Mascarpone with low-fat Greek yogurt, which is low-fat, but still creamy and also full of protein. The sponge cake is made from oats and almonds, which are rich in fiber, vitamins and minerals. Instead of oil, I used apple puree in the sponge cake. If you want to further reduce the carbohydrate and calorie content of this dessert, you can use only half of the sweetener the recipe asks for and add a pinch of stevia, or sweeten tiramisu with xylitol.
So do not wait another second and try this simple recipe for a healthy fit tiramisu.
1 cup = 250 ml
Instructions
In a blender, mix almonds and oats into a fine flour.
Add the remaining dry ingredients into the fine flour and then mix in all the remaining ingredients.
Pour the resulting batter into a sheet lined with baking paper (approximately 20x20cm) and bake the sponge cake for 20 minutes at 180 °C until golden.
Let it cool after baking.
Meanwhile, in a bowl, mix Greek yogurt with 3 tablespoons of honey and vanilla extract.
Taste the cream and if it is not sweet enough, add another spoon of sweetener or stevia.
You can cut the cooled sponge cake into smaller pieces or just cut it in half.
Place a part of the sponge cake on the bottom of a sheet (same or smaller), drizzle with brewed coffee, and spread a layer of the cream.
Repeat this process of layering the tiramisu until you use up all the sponge cake and the cream.
In the end, dust the tiramisu with sifted cocoa powder or carob.
Share this recipe with a friend:
| | | |
| --- | --- | --- |
| | Preparation time | 35 minutes |
| | Yields | 8 slices |
Nutritional information / 1 slice
Calories
245 Kcal
Carbohydrates
31 g
Fiber
3 g
Proteins
12 g
Fat
8 g
I am a fit food wizard nutritionist and I conjure up these healthy and tasty fitness recipes.
My goal is to show you that eating healthy can be easy-breezy.
Lucia Wagner
Comments