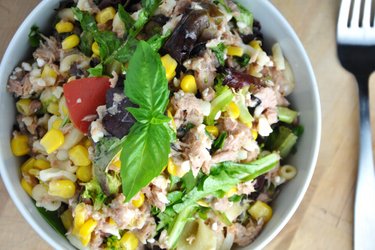 Fit Vegetable Pasta Salad with Tuna
Share this recipe with a friend:
Are you looking for a healthy cold salad recipe full of protein, with a low fat content? Salad that tastes great, fills you up well, but at the same time, is easy to digest? In this case, you don't need to look any further. This healthy and fit vegetable pasta salad with tuna is great for lunch, dinner or on a table during celebrations or barbecues. It's so easy to prepare and contains ingredients that you definitely have at home even right now.
This fit pasta salad contains lots of vegetables and instead of mayonnaise, we will use cottage cheese which supplies the salad with a delicious creamy consistency, but at the same time, it will not unnecessarily load it with calories. Hence, the salad is easy to digest and after eating it, you won't feel like your stomach will burst in a moment. You can choose the type of pasta according to your taste, use whole-wheat, buckwheat, corn, or spelt pasta. Depending on the type you use, you can easily create an egg-free or gluten-free version of this salad.
Tuna enriches this salad with a high content of protein and omega 3 fatty acids. Together with other ingredients, it creates a nutritionally-balanced meal that you'll have ready in less than 30 minutes. The most complicated part of the recipe is probably cooking the pasta - then simply toss in all remaining ingredients and you can serve the salad immediately. Season the vegetable pasta salad to your taste and you'll see that nobody will be able to resist it.
Ingredients
100 g (3.5 oz) whole-wheat pasta (I recommend this one)
150 g (5.3 oz) tuna (in its own juice or olive oil) (I recommend this one)
2 handfuls of lettuce (garden, salad mix, spring..)
1 tomato
80 g (3 oz) corn
2 Tbsp olive oil (I recommend this one)
4 Tbsp cottage cheese (or more)
olives (optional)
pinch of sea salt
black pepper or other seasoning (to taste)
Instructions
Cook pasta in salted, boiling water according to the packaging instructions.
Rinse lettuce and tomato, chop finely and fold into a bowl.
Then mix in corn, cottage cheese and olive oil.
Add cooked pasta, tuna drained of juice and toss the salad thoroughly.
Finally, season the vegetable salad with pepper and sea salt according to your taste.
Share this recipe with a friend:
| | | |
| --- | --- | --- |
| | Preparation time | 25 minutes |
| | Yields | 2 servings |
Nutritional information / 1 serving
Calories
449 Kcal
Carbohydrates
43 g
Fiber
7 g
Proteins
28 g
Fat
17 g
I am a fit food wizard nutritionist and I conjure up these healthy and tasty fitness recipes.
My goal is to show you that eating healthy can be easy-breezy.
Lucia Wagner
Comments