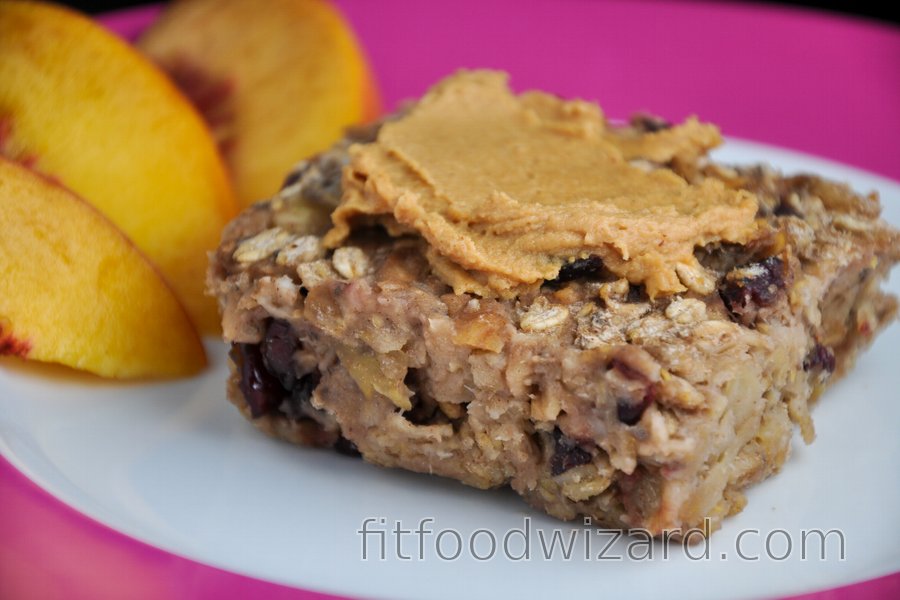 Flourless and Sugar-free Baked Oatmeal
Quickly prepared, this delicious and tender oatmeal cake, or baked oatmeal with no added sugar or flour, is perfect for breakfast. It is perhaps not necessary to talk about the fact that oats are a perfect choice for breakfast. If you love oats in any form and if you want to prepare something different than ordinary oatmeal, try it in the form of healthy baked oatmeal - you will see, that the taste will surprise you.
This baked porridge is very simple to prepare and contains only healthy ingredients. It is prepared in a just a few minutes and can be done by any beginner. It is gluten-free, sugar-free and rich in dietary fiber, complex carbohydrates and proteins. It has a slightly sweet taste thanks to the fruits, and I think it is not necessary at all to sweeten it with sugar or honey. One portion contains a relatively low amount of calories.
Spread this baked oatmeal with peanut butter and add some fresh fruit and you get a real yummy dessert or breakfast. You can also mix your favorite ingredients into the dough, and change the taste of this baked porridge every time.
In case of interest, you can replace classic milk with coconut or almond milk to prepare the vegan version of this recipe.
Instructions
In a bowl, mix together mashed banana, grated apple and all remaining ingredients.
Pour the dough into a bread form, or into a smaller form, and bake at 180 degrees Celsius (350 °F) for 25 to 30 minutes – until golden.
After baking, you can eat it while still warm (it crumbles a bit) or you can leave it to cool or place into refrigerator.
| | | |
| --- | --- | --- |
| | Preparation time | 35 minutes |
| | Yields | 2 servings |
Nutritional information/ 1 serving
Calories
390 Kcal
Carbohydrates
68 g
Fiber
11 g
Proteins
12 g
Fat
6 g