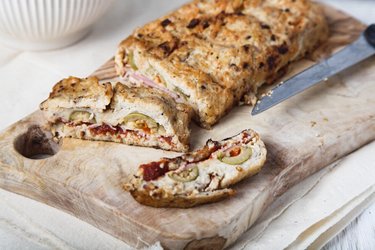 Gluten-Free Cauliflower Roll
Share this recipe with a friend:
A delicious savory cauliflower roll without flour. You can fill the roll with any mixture you choose, but I recommend this one. It's really tasty!
There is a roll and a roll. I wanted to turn the sweet dessert into a full meal, when I was inventing this recipe. This cauliflower quick and easy, gluten-free roll is healthily filled with cheese, tomato purée, ham and olives. All fans of healthy lifestyle and fitness will certainly enjoy its high protein content.
This stuffed roll made of cauliflower dough is easy to prepare and tastes a poem. Everything in one, that's what I like the most. At first glance inconspicuous cauliflower, contains many vitamins and you can conjure anything in the kitchen with it. It is an excellent guardian of your slim line, and if you are in the process of losing weight, eat as much of the cauliflower as you like.
Flour-less rolls will feast your visit easily and you can fill it with anything, just use your fantasy. You can serve it while still warm and golden crunchy, but it also tastes great as a cold buffet. It will also proudly replace a classic morning or afternoon snack. Try my healthy recipe for a filled roll made of cauliflower dough and let me know how did you like it.
Ingredients
1 cauliflower head
1 egg
50g (1.7oz) grated mozzarella
½ tsp. sea salt (I recommend this one)
½ tsp. oregano
⅓ tsp. ground black pepper
Filling:
3 Tbsp. tomato purée
50g (1.7oz) grated cheese
100g (3.5oz) high-quality ham
olives (to taste)
Instructions
Wash cauliflower, break into florets, and steam for approximately 8 minutes.
Place steamed cauliflower florets into a blender and blend until fine.
Fill a cloth or towel with finely shredded cauliflower and try to drain it as much as possible.
In a bowl, mix dried cauliflower with grated mozzarella, egg, and spices.
Spread the dough onto a baking sheet lined with parchment paper and shape into thin rectangles.
Bake at 220 degrees Celsius (425 °F) for 10 minutes.
After 10 minutes, take the crusts out of the oven, spread with tomato purée, and sprinkle with cheese, ham, and olives.
Using parchment paper, fold the edges of the crust so they overlap in the middle.
Pinch the edges together.
You can turn the roll over so that it makes a nicer shape.
Bake filled roll for additional 12 to 15 minutes, until golden.
Let the roll cool down before cutting.
Share this recipe with a friend:
| | | |
| --- | --- | --- |
| | Preparation time | 45 minutes |
| | Yields | 2 servings |
Nutritional information /
Calories
308 Kcal
Carbohydrates
9 g
Fiber
2 g
Proteins
28 g
Fat
17 g
I am a fit food wizard nutritionist and I conjure up these healthy and tasty fitness recipes.
My goal is to show you that eating healthy can be easy-breezy.
Lucia Wagner
Comments
✉️ Send me your favorite recipe.
Do you like to cook healthy and want to publish your favorite recipe on Fit Food Wizard?
Email
it to me and I will be happy to try it and publish it.