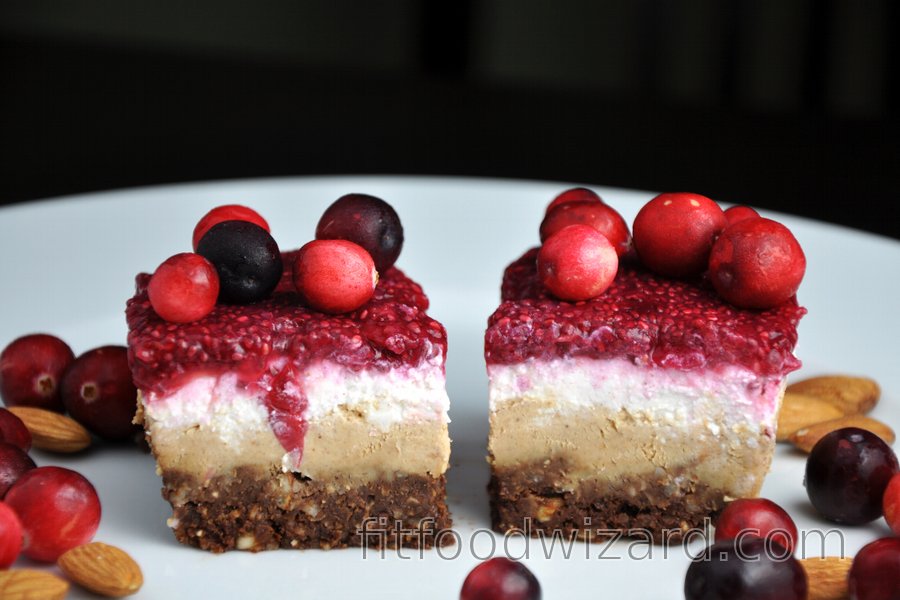 Healthy 4-Layer Dessert (Gluten-Free)
Tasty and healthy 4-layer dessert with peanut butter, quark and fruit-chia icing. It is totally free of flour and refined sugar, sweetened only with dates and a little honey.
If you love quark desserts, peanut butter and fresh fruits, you will certainly enjoy this treat. Each layer hides a great flavor, and in combination with other layers, a perfect harmony of taste will arise on your tongue.
The first layer, cocoa-oat base is made of dates, oats, coconut, almonds and cocoa. This layer is then spread with peanut butter mixed with coconut oil. The third layer consists of quark mixed with honey, and at the end the cake is poured with a good dose of fruit-chia icing, which gives a refreshing taste to this dessert.
This healthy fit 4-layer dessert is rich in fiber and provides your body with essential vitamins, minerals and also healthy fats. It fills you up very well, so you can enjoy it not only as a dessert, but for example as a nutritious breakfast too. If you have all ingredients by hand, try it and don't forget to let me know how did you like it in a comment.
Instructions
Blend dates, oats, almonds, coconut, and cocoa together in a blender.
If necessary, add a few spoonfuls of water so the dough is easier to manipulate.
When all ingredients are combined and blended until almost smooth, press into the bottom of a pan (e.g. bread mold) and place into the freezer.
In a bowl, mix peanut butter and melted coconut oil and spread this layer onto the first one (the first one should be at least partly set).
Place the dessert in the freezer again.  
Mix quark and honey and spread onto the peanut layer.
Cook fresh raspberries or cranberries in water, add chia seeds and let thicken for 10 minutes.
Pour this fruit mixture onto the cake and place into refrigerator for at least 7 hours.
| | | |
| --- | --- | --- |
| | Preparation time | 35 minutes |
| | Yields | 12 slices |
Nutritional information/ 1 slice
Calories
250 Kcal
Carbohydrates
19 g
Fiber
6 g
Proteins
9 g
Fat
15 g