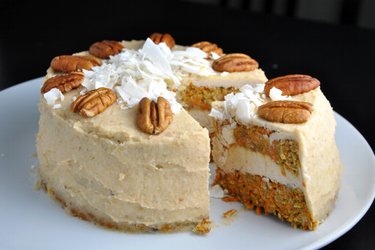 Healthy Carrot Cake with Coconut-Cashew Cream (Gluten-free and Sugar-free)
Share this recipe with a friend:
Is there a cake for you to pilfer delicacies in healthy and tasty way, and without guilt? It exists, and you can find it right on this page. Try this excellent and unique healthy carrot cake with coconut-cashew cream, which tastes heavenly. Additionally, the cake is completely free of flour and added sugar.
What a fit sweet would it be if it wouldn't hide the connection of an exceptional taste with a touch of health. Carrot cake with coconut-cashew cream is tender and quite a nutritious cake with a pleasant nut-coconut touch. It combines refreshing carrot, sweet coconut, healthy nuts and fruit in the form of grapes, bananas or apples. Everything according to your individual taste and preferences.
Healthy vegan carrot cake without flour, sugar and sweeteners, that will caress your digestive system. It contains the necessary dose of proteins, fiber, healthy fats, micronutrients and, on the other hand, only a little natural sugars. You can serve it to your friends, and they will not even complain, that you want to mess up their slim figure. And don't worry, the taste of carrots and cashew-coconut cream is really great. This healthy carrot cake is as made for Sunday afternoons.
Instructions
* Refrigerate the can of full-fat coconut milk overnight. Use the solid part that is created on top.
Soak cashews in water for at least 4 hours.
In a blender, blend oats into a fine flour.
Add cut carrot, grapes, shredded coconut, nuts, and a pinch of cinnamon and mix together thoroughly.
When all ingredients are combined and smooth, taste the dough. If it's not sweet enough, add ½ cup dates or dried raisins. Blend dough again.
Pour dough into a non-stick cake pan. Choose the pan size according to desired cake height. I use a pan with a diameter of 15cm. If you want to use a bigger pan (e.g. 25cm), double the ingredient portions.
Bake at 190 degrees Celsius (375 °F) for 25 to 35 minutes. The top of the cake should be golden.
Before unmolding, leave to cool for approximately 10 minutes and then cut carefully into two layers.
To prepare cream, blend cashews, the solid part of the coconut milk, coconut oil, and lemon juice in a blender.
You can also add vanilla extract or vanilla beans.
When cream is completely smooth, spread one half between cooled layers and spread the remaining cream on the top and sides of the cake.
Refrigerate the cake for at least 8 hours and let set.
Share this recipe with a friend:
| | | |
| --- | --- | --- |
| | Preparation time | 45 minutes |
| | Yields | 6 slices |
Nutritional information / 1 slice
Calories
400 Kcal
Carbohydrates
22 g
Fiber
4 g
Proteins
8 g
Fat
29 g
I am a fit food wizard nutritionist and I conjure up these healthy and tasty fitness recipes.
My goal is to show you that eating healthy can be easy-breezy.
Lucia Wagner
Comments