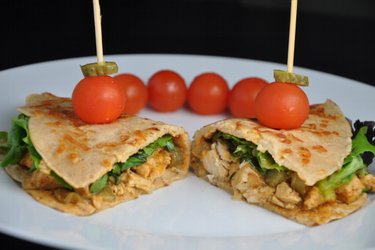 Healthy Chicken Stroganoff in Homemade Whole-Wheat Cheese Tortillas
Share this recipe with a friend:
Stroganoff is a favorite food in many households. But who said we cannot prepare it in a healthy and fit version?
Traditional stroganoff is a rich meal, packed with calories that will please you especially during colder months. However, my healthy version of stroganoff tastes almost identically, but has a significantly lower fat and calorie content.
I hope that this recipe for fit chicken stroganoff will delight many of you. It is one of our most popular main dishes with chicken at all. I serve it with these homemade whole-wheat tortillas with melted cheese, which go great with it. For a gluten-free version, you can use buckwheat flour.
It's a fast and easy meal you will prepare in 35 minutes and it is even tastier on the next day. It is ideal for boxed diets, but also if you want to prepare a tasty meal for a few days and save yourself from work in the kitchen. Therefore you can double the ingredients and prepare it for a few days ahead, for the entire family.
This healthy chicken stroganoff is not thickened with cream, but do not worry, it doesn't loose any flavor at all. Check it out yourself and don't forget to let me know in a comment about how did you like it.
Ingredients
800g (28oz) chicken breasts
1 onion
8 pickles, chopped
3 Tbsp mustard
5 Tbsp ketchup (sugar-free)
1 to 2 Tbsp Worcestershire sauce
1 cup water
1 tsp. sea salt
⅓ tsp. ground black pepper
2 Tbsp coconut oil (I recommend this one)
Tortillas:
1 cup whole-wheat flour (I recommend this one)
1 ½ cup water
handful of grated cheese
1 tsp. garlic powder
⅓ tsp. ground black pepper
a pinch of sea salt (I recommend this one)
a pinch of baking powder
Instructions
In a pot, sauté chopped onions in hot oil until translucent.
Add diced chicken breasts, stir, pour in a cupful of water, and cook over medium heat for 20 minutes until tender.
Check occasionally and if necessary, add more water.
After 20 minutes, add chopped pickles, mustard, ketchup,
Worcestershire sauce, spices, and salt- mix thoroughly.
Let the meat cook for 10 more minutes and prepare tortillas in the meantime.
In a bowl, mix all ingredients together for the tortillas.
If the dough is too thick, add a few spoonfuls of water.
Form tortillas out of the dough and place them into a heated non-stick pan and cook on each side until golden.
When the tortillas are done, fill them with chicken stroganoff and serve warm.
Share this recipe with a friend:
| | | |
| --- | --- | --- |
| | Preparation time | 35 minutes |
| | Yields | 4 servings |
Nutritional information / 1 serving
Calories
500 Kcal
Carbohydrates
27 g
Fiber
2 g
Proteins
52 g
Fat
14 g
I am a fit food wizard nutritionist and I conjure up these healthy and tasty fitness recipes.
My goal is to show you that eating healthy can be easy-breezy.
Lucia Wagner
Comments