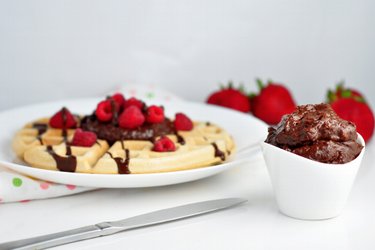 Healthy Chocolate Spread - Fitness Nutella
Share this recipe with a friend:
Excellent in taste, this healthy chocolate spread is a great substitute for Nutella or similar chocolate spreads. It contains high-quality ingredients full of vitamins and minerals and healthy fats, so you don't have to feel guilty about eating it. You can enjoy this fitness Nutella, for example with whole-wheat pastry, pancakes, waffles, as a yogurt or porridge addition, or just enjoy it as is.
In short, this healthy chocolate spread is a mandatory titbit for every woman. Honestly, which one of you will scorn a spoonful of Nutella during a stressful, tiring or just any day? Now you can enjoy it with a good feeling that it is full of healthy fats and vitamins and you really won't be missing out on anything else to be happy. No palm oil or refined sugar, only honey, hazelnuts, cocoa and avocado. Exactly, avocado can be used in a million ways, that's why we all love it.
Try to prepare this chocolate spread for your children but don't tell them it is healthy and you'll see how they love it! :) This recipe is especially suitable for the fans of sweet breakfast. Prepare a tasty morning snack to school or healthy pancakes for breakfast - this fitness chocolate spread goes with them perfectly, especially with sliced ​​banana or strawberries. Fitness Nutella is simply a recipe you need to try. I recommend using a food processor (I recommend this one) rather than a standing blender for its preparation.
1 serving equals to one large heaping tablespoon of the chocolate spread.
Instructions
Firstly, blend hazelnuts into a fine flour using a food processor.
Then, add in peeled banana, peeled and pitted avocado, honey, cocoa, coconut oil, pinch of cinnamon and, if desired, milk powder too.
Blend the mixture thoroughly into a smooth spread.
The resulting chocolate spread can be served with whole-wheat pastry, pancakes, waffles, together with yogurt or even as is.
Store the spread in refrigerator and use it within 3 days.
Share this recipe with a friend:
| | | |
| --- | --- | --- |
| | Preparation time | 10 minutes |
| | Yields | 10 servings |
Nutritional information / 1 serving
Calories
115 Kcal
Carbohydrates
12 g
Fiber
3 g
Proteins
2 g
Fat
8 g
I am a fit food wizard nutritionist and I conjure up these healthy and tasty fitness recipes.
My goal is to show you that eating healthy can be easy-breezy.
Lucia Wagner
Comments
✉️ Send me your favorite recipe.
Do you like to cook healthy and want to publish your favorite recipe on Fit Food Wizard?
Email
it to me and I will be happy to try it and publish it.