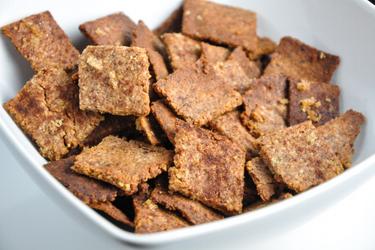 Healthy Cinnamon Cereals (Gluten-Free)
Share this recipe with a friend:
I have wondered for a long time, how can I make my favorite crunchy cinnamon cereals at home, without unnecessarily exaggerated amount of sugar and flour. And here is the result - the perfect recipe for healthy homemade cinnamon cereals, gluten-free and flour-free, made of almonds, flaxseed, cinnamon, coconut oil and honey.
These cinnamon cereals are even low carb, in one portion they only contain incredible 7 g of carbohydrates - what a delight! And if you're a maniac on cinnamon like me, I'm sure you'll enjoy this recipe. I prepared it by myself for several times, and I have to say that I didn't eat better homemade cereals yet. They are also healthy and nutritionally valuable - what else can I wish to make my mornings become more special.
I also have to say that they are easy to prepare and you only need 6 ingredients to prepare them. The most tricky part of the procedure is probably mixing the dough, but believe me, it's worth it. Regarding the topping, I warmly recommend it, and if you do not want to use a spoonful of sugar, feel free to use xylitol instead. Almond flour can be prepared easily by mixing or grinding almonds until fine flour (or you can use store-bought almond flour (I recommend this one) ).
Interesting part is, that their taste is very similar to the classic cini minis, and I would say they are even better. Well, see for yourself!
Before you start preparing these tasty cereals, I would like to give you some advice - this recipe is for 4 servings, but I believe you should double the amount of ingredients. You will thank me later :)
Instructions
In a bowl, blend together ground flaxseed and water.
Add almond flour, cinnamon, softened (not melted) coconut oil, and sweetener. Mix the dough thoroughly.
Line the baking sheet with parchment paper and spread the dough out.
Cover the dough with the second layer of parchment paper and roll it out thinly with a rolling pin- the thinner the dough, the crunchier the cereal.
Take the top parchment paper away from the dough and sprinkle the cereal with a mixture of sugar and cinnamon.
Bake the cereal at 175 degrees (345 °F) for 8 minutes.
After 8 minutes, take it out of the oven and cut into small pieces.
Then bake again for another 2 to 5 minutes – exact baking time depends on the thickness and on your oven.
During baking, check on the cereal often to prevent it from getting burnt. The final cereal should be light-brown.
Share this recipe with a friend:
| | | |
| --- | --- | --- |
| | Preparation time | 25 minutes |
| | Yields | 4 servings |
Nutritional information /
Calories
248 Kcal
Carbohydrates
10 g
Fiber
3 g
Proteins
8 g
Fat
20 g
I am a fit food wizard nutritionist and I conjure up these healthy and tasty fitness recipes.
My goal is to show you that eating healthy can be easy-breezy.
Lucia Wagner
Comments